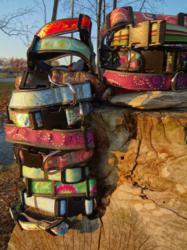 With every purchase of a recycled dog collar from Ruff Again you reduce the amount of waste that goes into the landfills. Dog owners feel great about their purchases...each collar uses recycled and reclaimed material.
Boonsboro, MD (PRWEB) November 28, 2012
Ruff Again knows that dogs love smells . . . your dog loves smells. Rolling in a pile of . . . um, something . . . on the ground is better than ice cream to some dogs. Swimming in the lake, river, pond or ocean full of smelly algae, fish, and other enticing aromas is heaven to some pups. Eating that disgusting piece of rotten food . . . and then possibly rolling in it too, seals the deal for other dogs. No matter how you slice it, dogs love smells. And unfortunately dogs usually come out smelling like these awful aromas... and so do the dog collars.
Ruff Again offers new twists on the same old dog collar, with eco-friendly dog collars and leashes. Have a dog that likes to swim? Try one of Ruff Again's Spin It! recycled dog collars. Made with rubber from discarded bicycle inner tubes, these are water-friendly dog collars. Quick drying and resistant to absorbing smells, they are a water dog's best friend. And, for dogs more interested in rolling in trash or the remnants of an animal that rests in piece(s), the rubber lining on these collars is perfect to resist bringing home the smells that drive canines crazy. While Ruff Again can't make a dog's natural fur coat resist the smells (yes, sorry - you still will have to wash your dog), the Spin It! series reduces clean up time with a collar that does not need much clean up!
For those dogs appropriately described as more of the bull-in-a china-shop type - always running through Mother Nature and frequently getting part of Mother Nature caught in his collar - a Click It! recycled dog collar may be the way to go. Using reclaimed seat belts and nylon webbing, these exceptionally durable collars may actually be tougher than the dog wearing it!!
With every purchase of an awesome recycled dog collar from Ruff Again the amount of waste that goes into the landfills is reduced because each and every collar is made with recycled bicycle inner tubes or with recycled seatbelts or reclaimed nylon webbing textile waste.
Keep checking in on Ruff Again's website http://www.ruffagain.com for what's new. Soon to be released - Ruff Again's Recycled Dog Bowl. And Ruff Again is asking for help in naming it! Check it out at Facebook page!
Ruff Again is based in Boonsboro, Maryland about 1 mile from the Appalachian Trail.