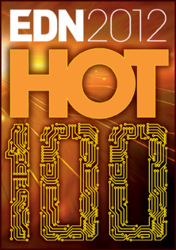 ViaDesigner lets anyone that can design a circuit design their own custom IC without needing full-custom chip design know-how
Winston-Salem, N.C. (PRWEB) November 28, 2012
Electronic Design News (EDN) has announced that Triad Semiconductor's ViaDesigner™ mixed signal circuit design software has been named as one of the "100 Hot Products of 2012." The 2012 EDN Hot 100 highlights the electronics industry's most significant products of the year based on innovation, significance, usefulness, and popularity.
ViaDesigner is a complete mixed-signal circuit design environment that runs on a Windows®-PC. ViaDesigner includes: schematic capture, support for multi-page and hierarchical design and a powerful SPICE circuit simulator. While many other design environments stop with these features, ViaDesigner adds VHDL and Verilog digital design entry and VHDL-AMS entry for analog and mixed signal modelling. ViaDesigner's powerful simulation engine combines designs containing schematics, SPICE, VHDL-AMS, VHDL digital and Verilog digital all in one easy to use simulation flow.
ViaDesigner accelerates analog and digital design by including a powerful set of sophisticated design wizards. Users can create complex analog functions without the need for extensive IC design know-how. The ever growing list of functions that can be created with ViaDesigner wizards includes: op-amps, trans-impedance amplifiers, programmable gain amplifiers, filters (continuous time and switched capacitor), integrators, comparators, analog to digital converters (ADCs), digital to analog converters (DACs), sigma-delta modulators, high-voltage circuit generators, linear regulators, band-gap bias generators, power on reset functions and more.
"We are honored to have been be selected as one of EDN's 100 Hot Products of 2012. EDN and our customers are recognizing and realizing the tremendous design acceleration that can be afforded by using ViaDesigner's high-level design and simulation capabilities. Designers are using ViaDesigner to simulate circuits in minutes that would have taken days with SPICE-only design environments," said Reid Wender, Vice President of Marketing and Technical Sales, Triad Semiconductor.
A free, 30-day, fully function copy of ViaDesigner is available at http://www.triadsemi.com/viadesigner.
Watch a ViaDesigner intro video
"It's always a fun and enlightening challenge for the EDN editors to select the year's Hot 100 products, which has been an annual tradition at EDN since 1993. This year's selection not only reflects some technology trends that have been in place for a while, but also highlights some new trends that are just emerging, as well as a unique product or two that is in a class of its own," said Rich Pell, Execuitve and Chief Technical Editor, EDN.
The complete list of EDN's Hot 100 products can be found online at http://www.edn.com/electronics-products/other/4401457/EDN-Hot-100-products-of-2012 or within the December 14, 2012 issue of EDN Magazine.
About Triad Semiconductor
Founded in 2002, Triad Semiconductor is changing the way mixed signal ASICs are designed. Triad makes ViaASICs™ that combine silicon-proven analog and digital resources onto ASIC die that are configured with a single via-only mask layer change. This approach to custom silicon design reduces development cost, development time, and is easier and less risky than traditional full-custom IC design. Triad is a privately-held fabless semiconductor provider of IC solutions for any production volume from thousands to millions with headquarters at 3900 Westpoint Blvd., Winston-Salem, NC 27130. For more information, visit: http://www.triadsemi.com or call 336-774-2150.
About UBM Tech
UBM Tech is a global media business that provides information, events, training, data services, and marketing solutions for the technology industry. Its media brands and information services inform and inspire decision makers across the entire technology market— engineers and design professionals, software and game developers, solutions providers and integrators, networking and communications executives, and business technology professionals. UBM Tech's industry-leading media brands include EE Times, Interop, Black Hat, InformationWeek, Game Developer Conference, CRN, and DesignCon. The company's information products include research, education, training, and data services that accelerate decision making for technology buyers. UBM Tech also offers a full range of marketing services based on its content and technology market expertise, including custom events, content marketing solutions, community development and demand generation programs. UBM Tech is a part of UBM (UBM.L), a global provider of media and information services with a market capitalization of more than $2.5 billion.