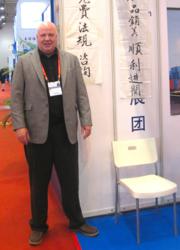 FSMA is not on the radar for Chinese seafood companies...
Glen Burnie, MD (PRWEB) November 26, 2012
"Chinese food companies are simply not aware of impending FSMA regulations, including the new food facility biennial registration requirements," said Ben England, Founder and CEO of FDAImports.com and Chinese subsidiary, ExportToUsa.com.cn, after a recent trip to China. The FDAImports.com team recently completed a two-week training trip in Shenzhen and Dalian, China where they exhibited and presented at two food trade shows and met with clients and government officials in the food manufacturing and food safety sector. Mr. England and Mr. Rick Quinn, both Principals at the firm, presented on Food Safety Modernization Act (FSMA) topics at the SQ Foods event in Shenzhen and exhibited at the China Fisheries and Seafood Expo in Dalian in support of the FDAImports.com/ExportToUsa.com.cn team. England and Quinn presented on the Foreign Supplier Verification Program and Voluntary Qualified Importer Program, two major provisions of FSMA that FDA is currently developing and that will have serious implications for foreign food manufacturers.
"FSMA is not on the radar for Chinese seafood companies," said England after FDAImports.com and ExportToUsa.com.cn exhibited for the 3rd straight year at the China Fisheries and Seafood Expo in Dalian. "One thing is certain however- FDA's Import Alerts scare Chinese manufacturers the most. It's a major concern for them and rightly so." England pointed out that "FDA is relying more heavily on the Import Alerts program as a cheap and easy way to transfer the compliance burden onto private industry."
"One thing we did notice this year," said England, "was that Chinese companies have a deeper understanding of FDA requirements and are making greater strides in bringing their compliance programs in line with what FDA wants." FDAImports.com and ExportToUSA.com.cn maintain offices in Qingdao, China as well as 7 other offices across the world.
About FDAImports.com
FDAImports.com is an FDA consulting firm helping U.S. and foreign companies navigate through and meet complex FDA regulations for marketing and importing foods, dietary supplements, drugs, cosmetics and medical devices. Benjamin L. England, Founder and CEO, is a former 17-year veteran of the FDA and served as the Regulatory Counsel to the Associate Commissioner for Regulatory Affairs. Contact: Jon Barnes, (410) 220-2800 or pr(at)fdaimports.com.
###