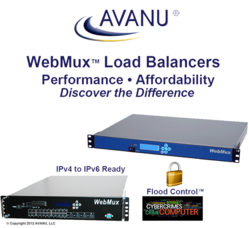 "With cybercrime on the upswing everyone becomes a target. Our security enhancement, including our exclusive Flood Control™ feature--to stop DDoS attacks at the IP level--is especially important for high profile targets...", says Fritz Ames, CTO of AVANU
San Jose, CA (PRWEB) November 28, 2012
AVANU® announces their first new WebMux firmware release since the acquisition of the WebMux load balancer line from CAI Networks. Version 9.2 introduces Flood Control™ as an exclusive feature only available on WebMux load balancers. The WebMux product is the sole source of Flood Control™ designed specifically to protect network servers. AVANU listened to a problem encountered by engineers at the US Naval Observatory (USNO) and worked to solve the problem. The USNO has been using the WebMux to load-balance their NTP servers for more than ten (10) years.
WebMux Flood Control™ now works at the IP level to protect infrastructure protocols. WebMux Flood Control™ traps bad IPs on the fly to deflect attacks on network servers that can be enforced by any IP service and can be especially suitable for infrastructure protocols such as NTP, ICMP, DNS, SNMP, Kerberos, and routing protocols. The network administrator has access to the display of currently blocked list, the block history as well as being able to clear out the block history. Another added benefit that has proven to be valuable for some customers is the ability to extract logs automatically and forward information on the bad IPs up the chain of command for possible blocks in other areas.
Flood Control™ protection level adds to the already unique built-in load-balancing and security features of WebMux load balancers including Network Address Translation (NAT/SNAT), TCP SYN protection, Multiple Address and Port mapping (MAP™), smart DDoS protection, HTTPS/SSH management, IPv4 and IPv6 support.
"With cybercrime on the upswing everyone becomes a target. Our security enhancement, including our exclusive Flood Control™ feature--to stop DDoS attacks at the IP level--is especially important for high profile targets not only for our government but also for financial institutions," says Fritz Ames, CTO of AVANU.
Firmware v9.2 will be available in December and will ship with all AVANU WebMux load balancer models. Customers covered under CAI Networks Support program have been transferred over to AVANU's Support Program and can inquire about having their WebMux load balancer updated with this latest firmware by contacting techsupport@avanu.com.
AVANU's WebMux Load Balancers Availability
WebMux load balancers Suggested Retail Price starts at US$3,999.00 and come with a one (1) year limited product warranty, firmware updates, and technical support. For additional information or how to become a reseller, contact sales@avanu.com or call 1.888.248.4900 (US & Canada Toll Free), 1.408.248.8960 International.
About AVANU, LLC
Based in the Silicon Valley of California and established in 1997, with a satellite office in the Washington DC area, AVANU® is a privately held network infrastructure product manufacturer and worldwide value-added supplier of networking products and services. AVANU's focus is on products for IT networks infrastructure and data center environments including network design and product implementation services. AVANU® is a certified participant in the U.S SBA's 8(a)/SDB development program, DoD CCR, and IAE's ORCA certified.
# # #
Copyright © 2012 AVANU, LLC. San Jose CA USA. All rights reserved.
AVANU is a registered trademark of AVANU, LLC
AVANUAdvantage, AVANews, BAM, DNSMux, Flood Control, MAP, and WebMux are trademarks of AVANU, LLC.
All other trademarks and registered trademarks used within avanu.com are the property of their respective owner(s).