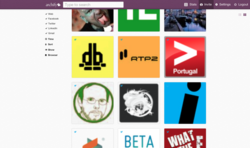 BERLIN (PRWEB) November 27, 2012
archify, a tool that stores users' entire web and social history in the cloud, announces the full public launch of its service today following a closed beta period. The company has added new features to its private archive service that enable users to easily find anything from their social or web history in seconds. Users can now search their archive right from their Gmail account, helping them save time when they search for posts from their social feeds or web pages they've previously visited. Additionally, the service has also added a suite of analytics that let users delve into comprehensive statistics from their Internet browsing history.
Users Can Quickly Search Their Private History While It's Stored Safely In The Cloud
archify provides a sleek private archiving service that stores users' social streams and web activity in one easy-to-search archive. A screenshot of each website they visit is saved along with the full text of the page, letting users find exactly what they're looking for even if it's been deleted from the live web. archify keeps users' history stored in the cloud, preserving the important web pages that they have browsed so they can search for and find the important information they're seeking.
Users can find what they're looking for in many ways:

Via their Gmail inbox
Via the archify browser plugin that adds a dedicated search feature to their browser
Via their personal archive on archify.com
Even from within Google, as archify adds their archive results to the Google search page
The new Gmail integration now provides users with an even more powerful way to access their social and web history. archify creates a private folder in Gmail to store their archive data. This means users can search their archive without ever leaving Gmail, accelerating the process of finding important information. This is a perfect solution for Gmail users and other professionals looking to accelerate their workflow.
On top of this, archify has added a powerful suite of analytics to its service letting individuals explore their Internet browsing behavior and see among other stats: what sites they visit most often; where they spend the most time; and what time of the day and week they are most active. This provides people with a powerful tool that helps them understand how they really use the web.
Always Find That Post Or Page
Currently, the only record people have of the sites they visit is a simplistic list of URLs in their browser history – a feature that hasn't changed much over the years. Having to go through thousands of web pages, spanning months and potentially years of browsing doesn't enable users to efficiently search for what they're looking for. Imagine that someone working on a critical report for work remembers an article they read months ago that would be a perfect reference. They can crawl sluggishly through their browser's history or pray that they can re-find it through one of many searches of each of their social networks.
This is where archify comes in, providing them with a personal search engine of their web history, making it easy to locate the web page or social post they're looking for. Since archify also saves Facebook and Twitter streams, it gives users an incredibly powerful way to search all their conversations and interactions with friends and followers.
About archify:
archify provides users with a personal archive of all of their Internet browsing and social media feeds. It provides a searchable interface so users can easily find previous web pages they've visited or important past updates from their social feeds. archify was founded in 2012 by CEO Max Kossatz and CTO Gerald Back. archify is headquartered in Berlin and has received VC funding from Balderton Capital.
See more at:
http://www.facebook.com/archify