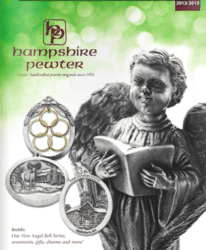 Our Collection Series adds a NH Covered Bridge, a New England Light House and a New Christmas Bell.
Our Historic Collections Additions Includes: Our National Christmas Tree Pick Ornament plus two Wolfeboro Landmarks
Wolfeboro, NH (PRWEB) November 28, 2012
Hampshire Pewter unveils their new Wolfeboro made pewter pieces and their 2012-2013 Catalog. All pieces are made locally at Hampshire Pewter on the shores of Lake Winnipesaukee and each considered a treasure to their growing pewter product line.
New collectible pieces include the Corbin Covered Bridge added to the now 20 NH Covered Bridge Collection. The Portland Maine Lighthouse joins the New England Lighthouse Series which includes the Boston Lighthouse in MA, the Portsmouth Lighthouse in NH and Nubble Light in Maine.
Added to the 12 Days of Christmas Collection is the "5 Golden Rings" Christmas Ornament which has 5 gold plated pewter rings. Collection to date includes a total of five ornaments: A Partridge in a Pear Tree, Two Turtle Doves, Three French Hens, Four Calling Birds and the new 5 Golden Rings Ornament.
The New 2012 Winter Peace Christmas Ornament is this years ornament sent to adorn the U.S. National Christmas Tree in Washington D.C. as well as sent to the NH Senators and Congressmen.
Wolfeboro Historic Collection adds The Libby Museum Centennial Ornament and First Christian Church of Wolfeboro Biennial Ornament.
Also new is Rooftop Santa Going Down the Chimney Ornament with reindeer in the background. Hampshire Pewter has over 140 ornaments, most have double-sided details and may be engraved to commemorate a special occasion.
Four New Charms include the Lucky Acorn, Pine Cone, Real Peace, and NH's Old Man on the Mountain Charm. Their selection of over 80 charms are used for bracelets, zipper pulls, earrings, necklaces and key chains.
Hampshire Pewter also added to their Bell Collection with the Boy Angel Bell and Boy Angel Figurine.
For more information about Hampshire Pewter visit their website at http://www.hampshirepewter.com
About:
Hampshire Pewter, located at 9 Railroad Ave in Wolfeboro, NH, is proud to manufacture high-quality products in the U.S.A. They are the only pewter company in North America that hand-casts each piece of hollow-ware one at a time using Hampshire Pewter's special Queen's Metal pewter. After casting, each piece is then machined on a lathe, often two or more pieces are soldered together to make beautiful products. Once this process is complete each piece is then hand finished creating truly unique final products for the Home, Weddings, Keepsake Gifts for Babies and Special Occasions.
Hampshire Pewter is also a prime source of diplomatic and protocol gifts for many officers of the United States Government and detailed pewter reproductions for historical societies, fraternal organizations, private collectors and museums around the country.