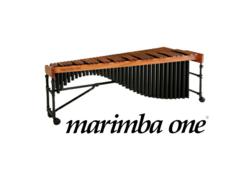 Arcata, CA (PRWEB) November 28, 2012
Marimba One, the world's premier maker of concert marimbas, has been granted a patent by the U.S. Patent and Trademark office for its pioneering work on resonator acoustics. The patent means that Marimba One's innovation in creating Basso Bravo® resonator voicing is acknowledged and protected by the U.S. government.
The marimba is a large percussion instrument with resonator tubes and a keyboard made of Honduras Rosewood.
Ron Samuels, owner of Marimba One, is gratified by the patent issuance. "This is the result of hundreds of hours' research by my team of acoustic engineers," he says. "We had already been studying the acoustic signature of our 'classic' resonator voicing, and also working closely with our many artists to design our new bass resonator sound. The sound of Basso Bravo® resonator voicing is truly the sound I have always dreamed of for the bass end of the marimba."
Here is how it sounds: If you imagine a graphic equalizer for a stereo system where you turn up the volume on the fundamental of the marimba's bass end and turn down the volume on the overtones that are present in both the bass resonators and bars, this is the sound of Basso Bravo® voicing. It is a distinctly warmer, darker, and louder bass sound.
The process allowed the team to engineer the specific harmonic content of each Basso Bravo® resonator so that the timbre of all the resonators is the same.
Samuels adds, "We've been able to more than achieve our goals, as can be heard in the dramatic presence and strength of our patented Basso Bravo® resonator voicing. I truly believe this is a major breakthrough for the marimba and its evolution as a musical instrument."