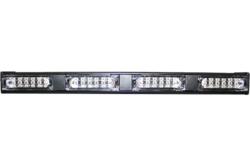 Brooklyn, New York (PRWEB) November 26, 2012
Police Lightz today announced the official launch of its first warning light stick series, the AttackR, that can also double as a fully functioning arrow/directional stick.
Designed with a lightweight aluminum, fully waterproofed housing, the AttackR can be used both internally and externally on a wide range of emergency and utility vehicles. In addition, both models come with a standard 12 DC, 2 switch cigarette plug with a power switch and pattern switch, over 20 self contained flash patterns and the ability to sync together multiple units.
"Our newest product, the AttackR warning series takes two products and combines them into one, to provide a wide range of users with a multi purpose warning light. With the optional, fully functional control box for the larger models, we are proud to say that users have the choice between two different lighting looks and the ability to either warn traffic or direct traffic," said Ariel Cohen, Director of Marketing for Whacker Technologies.
Available in a 5MM LED or linear LED series, the AttackR warning light comes packed with the latest technology. Available in 2, 4, 6 or 8 head modules the AttackR is sure to grab the attention of motorists. In addition to acting as a warning light, the AttackR 6 & 8 head modules can be purchased with an optional fully functioning control box that gives the user total control over the unit. The controller allows the user to change switch patterns and even turn the warning stick into a traffic directional with right, left and center out patterns.
The Police Lightz AttackR warning series is available starting at 149.99 and the AttackR Linear warning series is available starting at 135.99. All AttackR series warning sticks can be purchased online at EmergencyCity.com
Whacker Technologies, Inc., is headquartered in Brooklyn, NY and is the parent company of Whacker Technologies, Police Lightz, and Emergency City. Whacker Technologies manufactures and sells interior and exterior police lighting, sirens and accessories for vehicles of many industries. For more information please visit http://www.whackerusa.com.