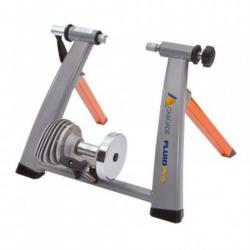 "The Cascade FluidPro feels very real to the road. It's smooth and consistent"
Woodinville, WA (PRWEB) November 27, 2012
Brendan Haplin, a professional triathlete, has been training on the new Cascade FluidPro Bike Trainer and he likes what he sees. "The Cascade FluidPro feels very real to the road. It's smooth and consistent," says Brendan. "Its not coming and going. Some trainers I like and some I don't, but this one, I really like."
Brendan is not the only cyclist enthusiast to give the new Cascade FluidPro bike trainer thumbs up. "We've had cycling teams, weekend warriors, and triathletes all try the Cascade FluidPro and tell us how much they like it", says John Post, the President of Cascade Health and Fitness. "The FluidPro bike trainer really is quieter than leading competitors and the patented Quick Connect System makes attaching a bike so easy." He adds, "The FluidPro is also built so well, we are one of the few companies able to offer our customers a real lifetime warranty."
With no assembly required, other popular features of the new FluidPro bike trainer include a 7 lb. flywheel that helps create a great road feel for the cyclist and a no-slip tension adjuster that locks the rear bike wheel in place. All FluidPro bike trainers also come with a front tire riser.
As the official bike trainer of Climate Ride, http://www.climateride.org, the Cascade FluidPro was recently featured as an award at the September Climate Ride event in California. The Climate Ride affiliation is part of Cascade Health and Fitness' "Cycling for Cause" Program that teams up with nonprofit cycling events organizations that make a difference - http://www.cascadebiketrainers/C4C.
In addition to the new FluidPro, Cascade Health and Fitness also offers two other bike trainer models. For cyclists who want to train with power, the FluidPro Power is an affordable option to other competitive products – adding a wireless power display specifically designed for the FluidPro model. The Cascade MagPlus is a magnetic bike trainer that features a bar mounted remote adjuster and has 5 levels of smooth magnetic resistance to choose from.
For more information on the Cascade FluidPro, and the full line of Cascade Health and Fitness bike trainers, visit http://www.cascadebiketrainers.com