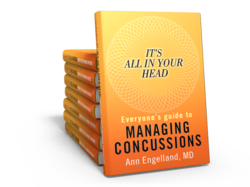 "It takes a village to prevent head injury and promote recovery from concussion."
New York, NY (PRWEB) November 28, 2012
Doctor Ann Engelland's new book, "It's All in Your Head: Everyone's Guide to Managing Concussions" is a straightforward and indispensable guide to understanding concussion. Along with the website http://www.ManagingConcussions.com readers will understand the symptoms, the treatment of concussion and how to navigate the follow-up of head trauma including the increasingly common online testing that is being done in schools.
The premise of "It's All in Your Head" is that by following the Four Rs (Recognize, Respond, Rest and Reassess), recovery from concussions will be quicker and further injury will be prevented. The book walks the reader through each step of the way.
Dr Engelland is an experienced pediatrician with over twenty years experience in private practice, school and college health. She is also the mother of seven active and healthy teens and young adults. She has been at the forefront of developing policies in New York over the past five years to educate about and manage head injuries in our schools. She has treated and supervised hundreds of athletes and students following concussions and speaks to the reader the same way she speaks to her patients: clearly, compassionately and carefully.
"It's All in Your Head: Everyone's Guide to Managing Concussions" is available as an eBook on Amazon, Barnes and Noble and Kobo as well as in paperback at Amazon. All formats are accessible with just a few clicks through the informative and easy to navigate website, http://www.ManagingConcussions.com
The injured, their friends and parents, volunteer coaches, school personnel, school nurses, other health care providers, psychologists and guidance counselors will all benefit from a collaborative understanding of concussion symptoms and how to promote recovery.