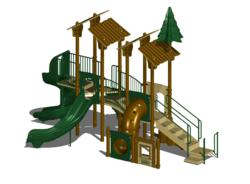 Playground installation at Los Angeles AFB by San Diego company, Pacific Play Systems, Inc., just completed, playground is now open for use by military families
San Pedro, CA (PRWEB) November 27, 2012
A new playground equipment project has just recently been unveiled at the Los Angeles AFB in San Pedro, CA. The project was awarded this past summer of 2012 to the Carlsbad commercial playground equipment company, Pacific Play Systems, Inc., a company who was also recently awarded several projects in San Diego County including a large design build project for the Marine Corps Community Services at the Marine Corp Recruit Depot, San Diego. The scope of work for the new project at the Los Angeles AFB included the removal of the AFB's existing play structure, installation of a new Playcraft custom play structure with a forest theme, along with a set of parallel bars. The new equipment is installed over rubberized surfacing. The project was in the planning stages for several months and took approximately three weeks to complete.
The new structure has been designed with an adventurous forest theme with natural woodland colors. The playground includes tree house-inspired features such as a tree stump climber, tree house rooftops, a decorative evergreen tree topper, and a ranger station, in addition to a varied selection of traditional play components. The new play system is sure to capture children's imaginations and provide them with a creative and interactive play environment, as well as to provide much needed exercise. The new Playcraft equipment has been specifically designed for use by children within the 5-12 age group.
Supplier of the new play structure at the Los Angeles AFB, Pacific Play Systems, has completed similar projects at other southern California military bases such as 29 Palms and Camp Pendleton, and will soon begin installation for MCCS. The project for MCCS, San Diego, is scheduled to start the first week of December and will include multiple playground structures, all designed for complete wheelchair access, a wide range of site furnishings and multiple swing structures including a tire swing, etc.