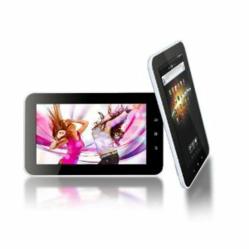 Atlanta, Georgia (PRWEB) November 27, 2012
10rate editors Jon Bannister and Steve Holdgren cut through all the choices out there in the holiday presents category to come up with their top choices. Windows 8, a Turision Tablet, and a number of DVD box sets were selected as great holiday gift ideas. According to the Best Budget Tablet page at 10rate.com, the Tursion 7" Capacitive A10 tablet was selected because of it's price tag of less than $100. Jon said, "This guy used to be $199 but dropped to just $85 recently. For those on a budget this is a great tablet. Wifi support, 7" screen with front facing camera and mic. Android 4.0 is packed on this puppy, and its exandable up to 32GB via a microSD slot. Though the screen is only 800x480pixels its still a decent picture for its price," when reviewing the device.
Windows 8 is also going to be a hot gift idea this holiday season. Jon took the time to review the Best Features of Windows 8 so shoppers will know why the upgrade is worth their time. Some of the highlights included, "For those with a touch screen, you will be blessed to have this super sleek and responsive interface. For those without a touch screen, it still works well with a keyboard. Pinch, zoom, throw, swipe your way around apps and programs like nothing. It really is a truly great interface," and, "with file history you have the option to continuously back up your personal documents from certain folders to a 3rd party device (hard drive, or even cloud) – and it's very customizable."
Lastly, editors chose the Best TV Series with The Sopranos, Six Feet Under, and Dexter all being selected according the the Top 10 list. In the Sopranos, "follow New Jersey mobster boss Tony Soprano and his crew as the extort, racketeer, kill, and run the city. For those who need a modern Godfather fix that will lasts months, this is a must buy for one of the best TV shows ever created. Well worth the price!" Six Feet Under is, "An HBO classic and must watch, 9 time Emmy Award winning show, dubbed as one of the best shows every created. Spanning 5 series and 63 episodes – the series focuses on dark humor and surrealism."
10rate.com conducts reviews in various product and services categories and publishes "Expert Top 10 Lists for Everything in your life." The company's web site strives to "Make it Easy" to select from the hundreds of choices there are in the product and service market place. All products and services are thoroughly researched by the companies expert editors prior to receiving a rating on a 1-10 scale. In addition to product reviews the companies editors write guidelines, buying guides and articles on various topics surrounding each product or service category covered to help educate the consumer.