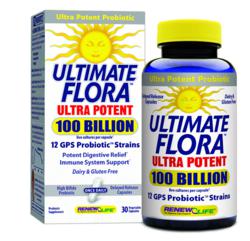 This product is ideal for those looking to cut down on the number of supplements they take and for anyone seeking the highest probiotic dose available...
Clearwater, FL (PRWEB) November 27, 2012
Hidden Bacteria Busters
The human digestive tract is home to trillions of bacterial cells which live in a delicate balance. This gut microflora population regulates digestion and bowel health, promotes vitamin production, supports intestinal lining health, immune cell, and colon cell health, and crowds out harmful bacteria to keep the body healthy.
"Many of us are now aware of the essential microflora population in our guts," says Brenda Watson, C.N.C., PBS and national health educator, and President of ReNew Life. "What we don't always understand are the many factors that directly affect, or impair, the numbers of these beneficial bacteria."
Watson cites age, which reduces the number of Bifidobacteria in the colon and so impairs bowel health, a diet high in sugar and low in fiber, the over-use of antibiotics, and the thousands of unavoidable toxins in our environment as just a few of the hidden factors that decrease beneficial bacteria levels.
"The modern American's gut is up against an onslaught of beneficial bacteria-busters," says Watson. "Fortunately, high-potency probiotics help replenish this imbalance, or dysbiosis, and alleviate many of the constipation, diarrhea, bloating, immune, and irritable bowel issues we're facing."
Ultimate Flora 100 Billion—The Highest Potency Probiotic
"We began formulating Ultimate Flora 100 Billion with a specific blend of Lactobacillus and Bifidobacteria probiotics called GPS (Gut Protection System) probiotics that are proven safe and beneficial for human consumption," says Watson. "Our twelve-strain blend is higher in Bifidobacteria, a ratio that more accurately represents a healthy gut environment. Other probiotic supplements contain only one or a few strains and less Bifidobacteria."
The Product Development team at ReNew Life combined this gut-specific formulation with their highest potency yet of 100 billion probiotics per delayed release capsule. Consumers seeking digestive relief would have to take up to 10 capsules of many competing probiotic supplement to equal one of Ultimate Flora's new 100 Billion's potency.
"This product is ideal for those looking to cut down on the number of supplements they take and for anyone seeking the highest probiotic dose available for irritable bowel issues, post-antibiotic replenishment, or for those experiencing noticeable gut dysbiosis that is affecting their digestion and bowel health," says Watson. "It provides intensive relief in a balanced adult formula."
Ultimate Flora 100 Billion is now available in fine health retailers nationwide and features:

100 billion live bacteria cultures per capsule
12 Gut Protection System probiotic strains
60% Bifido and 40% Lacto to mimic higher Bifido levels inherent in the gut
Delayed release capsules and glass bottle packaging to better protect probiotics
Gluten, dairy, and soy free with no added artificial ingredients
About Renew Life
ReNew Life Formulas was founded in 1997 by Brenda and Stan Watson and offers a full spectrum of award-winning digestive care supplements and functional foods. Each ReNew Life product is made from only the finest raw ingredients. The company's analysis, educational materials, customer service, and superior manufacturing practices all set the benchmark for others in the industry. Above all, ReNew Life is dedicated to helping their customers achieve and maintain optimal health, increase energy, and enhance their mental clarity.
For additional information on new Ultimate Flora Ultra Potent 100 Billion, please contact bcooper(at)renewlife.com.