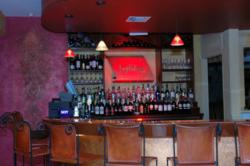 Our customers have been raving about Zoofari for years, and the fact that proceeds go to education and animal conservation gives us even more of a reason to contribute and introduce our healthy food there
Tampa, FL (PRWEB) November 26, 2012
On November 3, 2012, Byblos Café was one of 50 Tampa Bay restaurants to participate in the Lowry Park Zoo's 26th Annual Zoofari, an all-inclusive food and music festival held at Lowry Park Zoo in Tampa. Guests from all over enjoyed the unique Mediterranean cuisine that Byblos Café, offered.
Zoofari is an annual fundraiser that invites residents from Florida and all over the country to join and indulge in foods donated from over 50 local restaurants, dance to six live bands, and enjoy an open bar in a fun and alternative setting—the Lowry Park Zoo. Funds raised from events such as Zoofari support the conservation of endangered animals, education programsat the zoo, and the quality of life in our community. This year, over 2,600 people attended and $75,000 was raised.
Byblos is known for their healthy, homemade Mediterranean cuisine. It is rich in fruits, vegetables, whole grains, nuts, beans, and seeds which provide thousands of micronutrients, antioxidants, vitamins, and minerals (1). The Mediterranean Diet is where good taste meets good health.
Every Friday and Saturday night, guests can enjoy performances from belly dancers who showcase traditional dance throughout the restaurant. With the new weekend late hours, Byblos wants to continue the party well into the evening, and offers discounted menu prices beginning at 10:30 PM.
In addition to the restaurant, Byblos Café owns another spot in Tampa near USF, Byblos Pitas, which is a healthy fast-food style restaurant. Some menu items include kabobs, pita wraps, hummus and a variety of fresh salads.
"We wanted to introduce our cuisine to the people of Tampa Bay who haven't experienced it yet," commented Ziad Estephan, owner of Byblos Café. "Our customers have been raving about Zoofari for years, and the fact that proceeds go to education and animal conservation gives us even more of a reason to contribute and introduce our healthy food there."
About Byblos Café
In 2001, the Stephan family opened Byblos Café in Tampa, Florida, and it is currently owned and operated by Ziad and Roger Stephan. Byblos Café offers an upscale, comfortable and quaint dining atmosphere which includes a restaurant, bar and lounge area. Byblos is a unique South Tampa destination where fresh market fare meets authentic traditional Lebanese Cuisine. Meals are prepared fresh daily, and recipes are prepared by Ziad and Roger's mother, Chafica Stephan. The restaurant recently announced new late-night hours (until 1AM), with discounted menu options starting at 10:30PM Fridays and Saturdays. Belly dancers perform every Friday and Saturday night to entertain diners. Sundays are known for a classic American breakfast with a Mediterranean twist. In addition to the sit-down dining, Byblos owns Byblos Pitas, a healthy, fast-food oriented establishment located near the University of South Florida. Both locations offer a catering menu. According to a 2005 Tampa Bay Illustrated article, Byblos Café has been a key contributor to the emergence of the Bay Area's upscale international restaurant scene. For more information, visit http://www.bybloscafe.com and http://www.byblospitas.com.
###
(1)Webmd.com , Accessed November 21, 2012. http://www.webmd.com/food-recipes/guide/the-mediterranean-diet