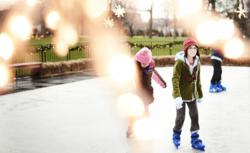 There is truly a family winter tradition building in University Circle
Cleveland, OH (PRWEB) November 28, 2012
Winter in University Circle just got a whole lot brighter. University Circle Inc. (UCI) has opened its new fresh ice rink on Wade Oval in the heart of University Circle, and Cleveland Botanical Garden has opened the doors to their reimagined WinterShow, "Glow", a memorable winter wonderland experience.
"There is truly a family winter tradition building in University Circle," says Chris Ronayne, president of University Circle Inc. "Since we first opened the Rink at Wade Oval four years ago with an innovative polymer surface, we have invited children and families from around Northeast Ohio to enjoy a free winter experience in the heart of University Circle. This year we are thrilled to have fresh ice on Wade Oval, evoking memories from long ago of fresh ice skating that our ancestors enjoyed in University Circle."
The Rink at Wade Oval is a Cleveland winter experience like no other. Visitors from all over the region enjoy the breathtaking winter scenery as they skate to the tunes of festive holiday music, and warming up with a cup of hot cocoa. The Rink is now open and will run through President's Day, February 18th. Special Wednesday evening hours welcomes skating under the stars until 9:00 p.m. Evening programs also taking place at Cleveland Botanical Garden, Cleveland Museum of Natural History and Cleveland Museum of Art.
The Rink at Wade Oval is free, and skate rentals are just $3. For skaters that want the rink all to themselves, the Rink is available to rent for parties or special occasions. Receipts from Glow gives skaters a free skate rental at The Rink at Wade Oval, and tickets from The Rink give attendees $1 off admission to Glow.
Glow at Cleveland Botanical Garden offers a winter wonderland that will bring joy and wonder to children and adults alike. As part of the wintertime fun, you can hop aboard the all-new Garden Express train ride. Decorate your own gingerbread house. Take in the fresh scent of evergreens and the joyous sounds of favorite seasonal songs. Along the way, enjoy scores of twinkling lights and the bright colors of 3,000 holiday plantings from red and white poinsettias to Christmas cactus and winterberry holly.
"Visiting the Garden around the holidays to see all the fantastic gingerbread houses and trees has become a tradition for many families around town, and it feels right for us to build upon that tradition and make the experience much more multi-sensory and immersive," says Natalie Ronayne, executive director of the Garden. "Whether you have kids or are a kid at heart yourself, Glow will bring out your holiday cheer -- I promise."
The cherished holiday traditions you've grown to love at the Garden — delightful gingerbread displays and splendidly decorated trees — return. New additions for Glow include the kid-sized Treetop Shop where little ones can pick out presents for mom and dad, an Alpine-village experience of unique shopping and delectable treats and a magnificent 25-foot-tall evergreen decked with more than 40 live poinsettias.
That's right — the Garden's popular Gingerbread Competition is back for its 9th year. Everyone's invited to decorate a gingerbread house for the contest. Entry forms are available at cbgarden.org and are due by Friday, November 9. Categories include family and children, adults, businesses and not-for-profit arts and cultural organizations.
Glow opens on Friday, November 23rd and runs through Monday, December 31st. For hours and additional information about Glow, please visit cbgarden.org. For information on The Rink at Wade Oval, please visit universitycircle.org.