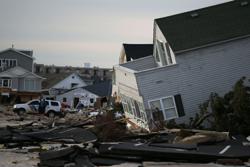 "Our next step might sound a bit extreme, but we were running out of time and I couldn't let her miss a single dose of her therapy," says Dr. Maroulis.
Altamonte Springs, FL (PRWEB) November 28, 2012
As Hurricane Sandy approached the United States, millions of people scurried to secure their homes and keep their families safe during this emergency. But for some people, like Gloria Brown* who lives near the New Jersey shore, this hurricane came with the added risk of potentially keeping them from their life-saving medications.
The Storm Before the Hurricane
Gloria's world was in a whirlwind, even before Sandy's arrival. Just 12 weeks before, Gloria received the unexpected diagnosis of hepatitis C. "I got the hepatitis C virus as a "silent gift" during blood transfusions many years ago," she explains.
"I didn't have second thoughts about going ahead with treatment, even after my doctor explained all the side effects," Gloria shares. In fact, she wasn't very concerned about the treatment: "I mean, who can possibly get all those side effects?" she remembers thinking to herself.
After a two-week grace period, the treatment side effects hit hard. "At first it was only a rash, but that was soon joined by bleeding hemorrhoids and then a fiery itch covering every square inch of my body," shares Gloria. Still, Gloria faithfully took her medications with hopes of a cure sustaining her. Not even the development of painful mouth sores kept her from continuing treatment.
At the six-week mark into her treatment, right around the time news stations started talking about the possibility of a hurricane approaching the Northeast, "I got the best news ever: a blood test showed that the virus was undetected in my body," she says. If she could just endure these side effects for a bit longer, she was likely to be cured.
Medications: Casualties of the Storm
On Monday, October 29, 2012, Hurricane Sandy made landfall along the New Jersey shore, not far from Gloria's home. Unfortunately, Sandy got there before her package, which was stuck at a distribution hub in another state.
If Gloria's treatment was interrupted, the virus could rebound and this time it could be resistant. As the power went out, "I remember thinking: I've come so far and endured so much discomfort, would I really have to start everything all over again?" says Gloria. A second round of treatment would have a lower chance of success and even worse was the risk that her insurance might not even approve it. "This could have meant that I would never be treated for the hepatitis C virus!" she says. Hurricane Sandy could be a death sentence for Gloria.
If Gloria's prescriptions came from a mail-order company, this is likely where her story would end. Her treatment would probably have been delayed until the emergency weather conditions passed. Fortunately, Gloria's medications come from a leading specialty pharmacy: BioPlus Specialty Pharmacy.
BioPlus Doesn't Give Up
Gloria's treatment team at BioPlus, who had been closely monitoring Gloria's situation the entire time, were working on multiple back-up plans to get her essential medications delivered. And yet her town was flooded and most roads were blocked with downed trees and she, like most in her town, still had no power and only intermittent cell coverage.
BioPlus, which is headquartered in Florida, "has weathered many hurricanes of our own and we're well-versed in enacting our own emergency plans so our patients can stay compliant with their prescriptions, regardless of emergency conditions," says Nick Maroulis, Pharm.D., Director of Pharmacy at BioPlus.
"In Gloria's case, my staff contacted numerous local doctors to see if there were any medication samples that she could use as a stop-gap until the roads were cleared and deliveries could start again," shares Dr. Maroulis. But when that didn't pan out, they did not give up. BioPlus tried to transfer Gloria's prescription to a local pharmacy if they had this medication on-hand, even though that could mean they would lose Gloria as a patient. "Another company might not have done that, but it's more important to us at BioPlus that our patients not miss a single dose," he adds. Unfortunately, this was another dead-end.
"Our next step might sound a bit extreme, but we were running out of time and I couldn't let her miss a single dose of her therapy," says Dr. Maroulis. BioPlus chartered a private jet to fly the medication to Gloria. For BioPlus, there was no question about the extra cost of handling and transportation. "I've never heard of another company doing anything quite like this for a patient," laughs Dr. Maroulis. "I guess it is pretty unique, but everyday here at BioPlus we go the extra mile for patient compliance."
After touchdown in New Jersey, the precious package was picked up by a private courier BioPlus had located in this hurricane-devastated area and hand-delivered directly to Gloria's door. The medication arrived at 9:00 a.m. on Friday morning. It was no more than a half-hour later before Gloria injected herself with the medication, just making the deadline to remain compliant with her treatment.
Since that frantic Friday morning, Gloria has been tested again and the virus is still at an undetected level. She is on-track for a complete cure from this life-threatening disease. "I'm so grateful to BioPlus for helping me stay on this treatment – this gives me my life back!" adds Gloria.
Not even a hurricane could stop Gloria and her specialty pharmacy, BioPlus, from kicking the hepatitis C virus out of her life.
About BioPlus Specialty Pharmacy
BioPlus is a pharmacist-owned, URAC accredited, national specialty infusion pharmacy providing high-touch services and specialty pharmaceuticals for patients with chronic diseases such as hepatitis, bleeding disorders, immune deficiencies, neuromuscular disorders, cancer, and other conditions. Licensed in all 50 states, BioPlus is one of the nation's largest independent specialty pharmacies. Accredited by VIPPS, Accreditation Commission for Health Care (ACHC), and the Community Health Accreditation Program (CHAP), patients can contact the Pharmacy toll free at 1-888-514-8082.
For information:
http://www.bioplusrx.com
info(at)bioplusrx(dot)com
1-888-292-0744