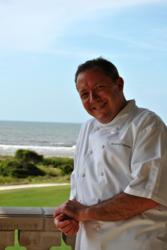 Bluffton, SC (PRWEB) November 28, 2012
Colleton River Plantation Club is pleased to introduce Robert Wysong as the club's new Executive Chef. Among its numerous accolades, Colleton River received a third consecutive Platinum Club of America designation this year, and is once again ranked among the Top 15 Residential Communities in the country. Chef Wysong's commitment to culinary excellence will serve to continue this tradition of achievement for the club.
A native of Maryland and graduate of Charleston's prestigious Johnson & Wales University, Chef Wysong is certified with the American Culinary Federation and credits his upbringing and travels with establishing his passion for cooking and the mealtime experience.
"Being lucky enough to grow up in suburban Maryland, I was exposed to the wonders of the Chesapeake Bay, while my father emphasized the importance of the enrichment of travel and dining. He also prepared breakfast every morning, which inspires me to this day."
Chef Wysong's illustrious culinary background includes experience with: Pensacola Country Club; Grove Park Inn Resort & Spa; Ritz-Carlton, Naples; and, most recently, The Sanctuary at Kiawah Island; as well as numerous independent freestanding restaurants.
With regard to Lowcountry cuisine, Chef Wysong embraces a philosophy where agriculture, season and social customs guide menus and his cooking process.
He said, "The richness and food practices of our region help this along and, as a chef, I find myself an important steward of the movement. I will consider myself a lifelong student of hospitality and the culinary arts, continuously being focused on the personalized experience and refinement thereof."
Chef Wysong added that he feels privileged to join Colleton River's leadership team and to reside with his wife, Marisa, in the "unique and resourceful coastal South Carolina."
About Colleton River Plantation Club
Colleton River Plantation Club is located 1.5 miles from the bridgehead to Hilton Head Island, South Carolina. This member-owned private golf community features 705 properties situated upon 1,500 acres of unspoiled land, surrounded by 7 miles of scenic shoreline. The award-winning signature 18-hole golf courses by Jack Nicklaus and Pete Dye each have their own unique and distinguished clubhouses comprising 30,000 square feet and 20,000 square feet, respectively. Additional community amenities include: an Augusta-style par 3 course; the Stan Smith Tennis and Swim Center with 5 Har-Tru courts and a Jr. Olympic Pool; a 6,000-square-foot fitness center; and a community dock with deep water access.