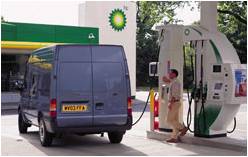 (PRWEB UK) 26 November 2012
FUEL costs: they just get higher and higher. Not that one needs reminding of the next guaranteed increase, but fuel duty is set to rise in January 2013 by 3p per litre.
Every small business could do without that, but bigger bills are on the way. It's inevitable. Or is it?
The Forum of Private Business, which campaigns on behalf of small businesses, has issued a statement to the Chancellor calling on action to improve the economy in his Autumn Statement. And its number one issue is fuel duty.
"Of all the costs to business, fuel hits the largest number of our members. We want to see the Chancellor freezing fuel duty for at least a further six months," says the Forum's Head of Policy, Alex Jackman.
But what if the Chancellor doesn't listen. What then, many will wonder.
Actually, there's a way to cut fuel costs. By at least 15 per cent.
Most drivers can reduce their fuel bills by 15 per cent simply by driving in a more fuel-efficient way. With specialist training, the saving often rises to 25 per cent. But let's keep it simple.
What can one do, without any expensive training, to cut their fuel bill?
Three things. Efficient driving. Efficient planning. Efficient van prep.
Efficient driving
Efficient driving, first. Drivers should think ahead, look further down the road and anticipate road conditions. It's about preserving momentum, and trying to avoid sudden braking and sharp acceleration.
They shouldn't welly it away from the lights and then slam on the anchors at the last minute for the next red light. That wastes fuel.
Where possible, they should change up at about 2000rpm. This keeps a diesel engine in its most fuel-efficient operating range. Many drivers also find it a less stressful way to drive than revving the socks off the engine.
Watch ones speed. Driving at 85mph uses 25 per cent more fuel than driving at 70mph, according to the Energy Saving Trust. And when they're stuck in stationary traffic or parked up, say, taking a call, they should switch off the engine.
Using the aircon can keep drivers alert and that's good for safety – but it's worth knowing that the aircon adds between two and five per cent to the fuel bill. Keeping the windows closed at higher speeds will also boost mpg.
Efficient planning
Next, planning. Don't burn fuel doing unnecessary mileage.
Satnavs can help reduce ones dead mileage. Yes, they sometimes get a bad press but more often than not they'll prevent one driving round aimlessly in an unfamiliar neighbourhood in search of a new client's premises.
What's more, many satnavs – including Garmins and Tom Toms – include an eco route option, where they will plan the most fuel-efficient route. If their satnav does that, they should use it.
Alternatively, use one of the many free online journey planners and, where possible, drive at times when traffic is freer flowing. They could use online fuel comparison sites, too, so they know the cheapest places to fill up.
Efficient van prep
Finally, the van. Check the tyre pressures.
On top of vital safety issues, a 25 per cent drop in recommended pressure bumps up ones fuel bill by two per cent. It all adds up.
They should take notice of the new EU tyre labelling regs when they replace their tyres. They can now see which tyres are most economical on fuel and it can make a big difference.
They shouldn't put stuff on the roof unless they need to – at motorway speeds, a simple roof rack - even unloaded - can increase fuel consumption by 16 per cent, according to a study by automotive design and engineering firm IDEA.
And weight: they shouldn't carry unnecessary cargo or equipment. Weight is a key factor in fuel consumption: the more of it they have to shift, the more fuel they'll be using.
The effect of speed on fuel consumption
They don't have to drive everywhere Harry Flatters…in fact the more considered their driving, the more they'll save:
For a typical large van the increases in fuel consumption depending on van speedare dramatic
23% increase in fuel consumption between 60 and 70mph
37% increase in fuel consumption between 60 and 75mph
Source: Energy Saving Trust
Five FTA Fuel Duty Facts
1. Petrol really costs about 60p per litre (excluding duty and VAT)
2. Fuel duty is over half the total price that is paid at the time of purchase
3. Fuel duty is a tax on work – it's paid straight out of cash flow or household expenditure, not profits or savings
4. Fuel duty is paid by everyone - businesses and hard working families
5. A 3p per litre rise in fuel duty costs a 10 vehicle freight operator approximately £14,000 a year – that could be a person's wages!
Source: James Hookham, FTA Managing Director Policy & Communications
How BT boosted fuel economy and saved £3million
BT decided to improve the fuel efficiency and emissions of its business vans by using remapping technology supplied by Viezu.
•20,000 of BT's light commercial vehicles were remapped
•Aim: deliver better fuel consumption and reduced CO2 emissions
•Tuned vehicles ranged from small Corsa sized vans through to larger Transit chassis-cab vans, with much larger payloads and different driving cycles.
•"Vehicle remapping offers fleets a host of opportunities and we're being increasingly asked by companies like BT to help them achieve their own environmental and cost reduction targets," explains Paul Busby, CEO, ViezuTechnologies.
Business Vans offers a wealth of useful information including tacographs, van MOTs and a range of reviews including Hyundai van reviews.
For more information, visit Business Vans at http://www.businessvans.co.uk/