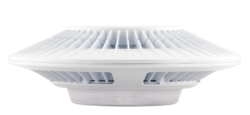 RAB's new energy efficient, low maintenance garage luminaires are designed specifically to meet the unique and demanding requirements of parking garages.
Northvale, NJ (PRWEB) November 28, 2012
RAB Lighting, the leading manufacturer of affordable LED lighting, announces the introduction of a new line of low profile, high performance LED garage luminaires available in ceiling and pendant mount configurations. The fixtures, which are offered in 78 Watt and 52 Watt versions, yield greater light output than the 250W and 175W metal halide fixtures they're designed to replace. As a result, fixture count can be reduced by up to 25%.
The fixtures boast impressive efficacy and color rendering index (CRI) ratings and are included on the DesignLights Consortium (DLC) Qualified Product list. With DLC qualification, the fixtures are eligible for an extensive range of utility rebate programs offered throughout North America.
Featuring a hanging plate and hooks for fast, tool-free wiring, the ceiling mounted GLED model has a 5 ½" low profile design that's ideal for garages with restricted ceiling clearance. The pendant mounted GPLED model offers additional installation options for garages with higher ceilings.
The GLED and GPLED both feature a vandal-resistant prismatic polycarbonate lens that produces a smooth striation-free light distribution. The fixtures have excellent thermal management due to superior heat sinking and integrated air-flow fins. They are constructed of a precision die-cast aluminum housing and doorframe with high-temperature silicone gaskets and a chip and fade-resistant polyester powder coat finish. The GPLED is UL listed for wet locations. The GLED is also suitable for wet locations with a covered ceiling.
"RAB's new garage luminaires are designed specifically to meet the unique and demanding requirements of parking garages," says Ross Barna, CEO of RAB Lighting. "Most commercial garages run their lights all day to provide an environment that's safe for both vehicles and pedestrians, so it's important that they use fixtures with reliable, energy efficient performance and low maintenance requirements. Our DLC-qualified GLED and GPLED fit the bill on all counts and represent a significant improvement over previous lighting solutions for this market."
Like all RAB LED fixtures, the new garage luminaires come with a five-year bumper-to-bumper warranty and have a 100,000-hour LED lifespan based on IES LM-80 results and TM-21 calculations.
About RAB Lighting:
RAB Lighting, located in Northvale, New Jersey, is a leading manufacturer of sustainable outdoor lighting fixtures, using LED, HID, CFL and motion sensing technology. Founded in 1946, RAB sells professional grade lighting nationwide through a broad network of electrical distributors. RAB also offers lighting design and application engineering services, free of charge, to produce lighting layouts that enable end-users and installers to visualize what their lighting will look like before they buy. For more information, call (888) RAB-1000 or visit http://www.rabweb.com.