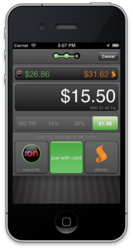 Mobile payments and loyalty programs are convenient and entertaining for consumers, and represent a powerful new method of driving revenue for merchants
Atlanta and San Francisco (PRWEB) November 28, 2012
Sionic Mobile® (http://www.sionicmobile.com) today announced that it has selected Admeris®, Inc. (http://www.admeris.com), as its mobile payments platform partner. Through the partnership, Admeris is enabling Sionic Mobile's ION℠ apps for smartphones and tablets with secure, cloud-based mobile payments between consumers and merchants.
"The Admeris mobile payment platform helps consumers to simply and securely pay ION merchants with their phones using the free ION Rewards℠ app," said Bob Burroughs, VP Product Marketing for Sionic Mobile. "The Admeris platform is completely PCI compliant and allows consumers to securely link one or more credit or debit cards from any bank with their ION Rewards account. Integrating ION with the Admeris payments platform was key to our bringing the mobile-to-mobile payment feature to market quickly and cost effectively."
Any Card, Any Payment Type, Maximum Rewards
With Admeris, consumers can confidently link credit or debit cards with their ION Rewards account, then pay with their phones securely without barcodes, dongles or special chips. Consumers earn IONs every time they pay with their phones and receive bonus IONs for buying merchant-advertised items, trying new ION merchants, connecting with friends, or referring their favorite places. One thousand IONs are equivalent to one US dollar and may be spent at any ION merchant, for anything, at any time, just like cash.
Unlike traditional credit card swipe transactions, merchants accepting ION Loyalty® mobile-to-mobile payments receive cash from their transactions daily. Payments are settled nightly through direct deposit into merchants' Dwolla® or checking accounts.
"Mobile payments and loyalty programs are convenient and entertaining for consumers, and represent a powerful new method of driving revenue for merchants," said Brian A. Bogosian, President & CEO of Admeris, Inc. "We look forward to working with Sionic Mobile as they enhance their already compelling offers and rewards service with easy, mobile-to-mobile payments."
###
About ION
ION Loyalty provides neighborhood merchants free mobile ads, digital mobile payments and simple customer rewards. ION Rewards pays consumers for shopping and dining, paying with their phones, sharing with friends and referring favorite places. The apps connect securely in Amazon's cloud for immediate and effortless checkouts. Both apps are free and support iOS and most Android devices.
About Admeris, Inc.
Admeris, Inc. is headquartered in San Francisco, with offices in Toronto and London. Admeris allows financial institutions and MNOs to bring mobile and online payment services to market quickly, on any device, and with any payment type. Admeris' mobile application establishes a highly secure personal payment profile for each consumer and enables frictionless online or mobile transactions. Admeris supports consumers' evolving digital lifestyles with simple, secure, convenient mobile payment options, and provides new revenue opportunities for banks and MNOs. To learn more about Admeris, visit http://www.admeris.com.