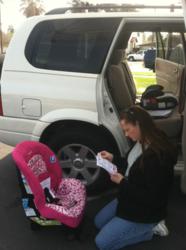 Riverside, Calif. (PRWEB) November 26, 2012
Parents may give the gift of safety to their kids this holiday season by getting their car seat checked for proper installation and fit at an upcoming Community Car Seat Clinic.
The free clinic is set for 10 a.m. to 1 p.m., Wednesday, Dec. 5, at Sam's Club, 6363 Valley Springs Parkway, Riverside, Calif., 92507. The event is being held in cooperation between Loma Linda University Children's Hospital; Safe Kids, Inland Empire; Riverside Police Department; Injury Prevention Services of Riverside County; Sam's Club; and AAA.
"Four out of 5 car seats are used incorrectly," says Michelle Parker, coordinator of Safe Kids, Inland Empire, out of Loma Linda University Children's Hospital. "Using a car seat properly could make all the difference in the safety of your child."
To make an appointment for the car seat clinic, call 951-826-5674.
Photo caption: Christine Patrick, a child passenger safety technician and volunteer with Safe Kids, Inland Empire, reads the car seat instructions at a Community Car Seat Clinic last spring.
# # #
About Loma Linda University Children's Hospital - LLUCH
The Children's Hospital is the only dedicated children's hospital in the vast geographic region of the San Bernardino, Riverside, Inyo and Mono counties. With 277 beds dedicated just for kids, one of the largest Neonatal Intensive Care Units (NICU) in the country, and more than 100,000 children who come each year, LLUCH is a major pediatric teaching facility for Loma Linda University and is part of the Loma Linda University health care system. Known worldwide as the pioneer of neonatal heart transplantation, LLUCH has performed more infant heart transplants than any other center of its kind.