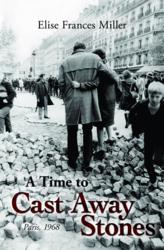 I 'tuned in and turned on,' but instead of 'dropping out,' I grew excited.
San Francisco, CA (PRWEB) November 28, 2012
The idea behind the new website, Facebook page, and writing contest with promised publication at Times They Were A'Changing, is that women who lived through that era will think deeply about their experiences and pass their memories and analyses along for each other and for subsequent generations. "It is my first encounter with such a concept online," Miller explains. "I 'tuned in and turned on,' but instead of 'dropping out,' I grew excited about dropping in - and participating. My writing is always fiction, so writing a memoir will be a challenge!"
In Miller's fictional account, A Time to Cast Away Stones, two straight-arrow UC Berkeley students approach the brink of personal and political revolution in 1968 Berkeley and Paris. Avoiding the usual 60s stereotypes, Miller has created complex American and European characters, each with their own desires and issues. And each changes throughout the story, right along with the social and political challenges they face.
Writing both fiction and nonfiction about the 1960s and 1970s is something more and more of the boomer generation feel compelled to do. Some are rather proud of their era, others are disgruntled or downright ashamed. We have all heard this description of the late 60s: "Things are never going to be the same."
Beyond all the obvious changes, Miller feels that arguably the major contribution of her generation was to blow the conversation wide open. "We made people leave their comfort zone," she explains, "and not everyone was happy with that. Nobody had ever spoken so freely and so openly about so many forbidden subjects before. I argued passionately with my conservative parents about sexual roles and taboos around race, religion, politics, education and ultimately, life's purpose. They would never have had those conversations with their parents."
While they were at it, boomers also opened us all up to creative music, art, fashion, books, our bodies, our relationships, and to solutions to difficult problems.
One of Miller's motivations in writing about the era, and for encouraging others to do the same, is to "set the record straight" about her generation. "Many blame our legacy of social polarization today on that new open conversation. Intensifying our nation's divided mind are the myths and misrepresentations about the people we remember from those days, fostered by a media greedy for easy answers and salacious material.
Miller points out that hippies, druggies, radicals, communists, activists, squares, straights or even students might not be way to characterize 60s or 70s-era youth. Or there might be combinations, which are tough to label. She hopes that writers telling their stories for the online writing project, Times They Were A'Changing..., even if they give themselves one or more labels, will reveal who they really were, in all their many-hued, mixed-up, frustrated, shape-shifting complexity.
"Whether you are writing fiction or memoir, if you write after heartfelt, honest, internal self-reflection, you expose the truth about our era. Once again, you have the opportunity to blow the lid off the conversation, and make it meaningful in our divisive age."
http://www.elisefmiller.com