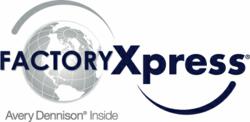 "Factory Xpress enables compliance with our customers by allowing our in-factory users to create packing lists, ASNs and carton labels without re-keying data." Carlos Castro, Account Executive at Compañía Universal Textil SA
New York, NY (PRWEB) November 27, 2012
TradeCard, Inc., the supply chain collaboration and global trade platform used by more than 10,000 retailers, brands, manufacturers and service providers, has processed more than 1.6 billion items year-to-date through its cloud-based factory floor solution, Factory Xpress. Twenty-four brands and retailers and over 5,000 suppliers use Factory Xpress to communicate with trading partners, ensure compliance and enable shipment strategies such as DC bypass.
"Factory Xpress enables compliance with our customers by allowing our in-factory users to create packing lists, ASNs and carton labels without re-keying data," said Carlos Castro, Account Executive at Compañía Universal Textil SA. "We obtain complete visibility into the status of products, packing and shipments. Our customers benefit from our ability to support sophisticated packing requirements and direct ship programs. Factory Xpress represents a true competitive differentiator that did not exist previously."
Compañía Universal Textil S.A. is a Peru-based provider of rayon fibers and polyester blend fabrics that services brands and retailers in Latin America, Europe, the United States and Canada.
From January through October of 2012, more than 127 million cartons were shipped using Factory Xpress, an increase of 69% over the full year of 2011. Transaction volume using Factory Xpress has grown to 576,000 purchase orders and 533,000 advanced shipment notices processed so far in 2012.
TradeCard introduced Factory Xpress in 2009 to deliver the next generation of cloud-based pack and scan capabilities. Today, Factory Xpress has evolved into the industry standard that enables buyers, sellers and all of their trading partners to have real-time visibility into shipment activities across production sites. Factory Xpress allows multiple users in a factory to work simultaneously on the same purchase order or shipment.
"Factory Xpress is the fastest growing product in our portfolio and the most robust solution available in the market today for automating packing, shipment building and receiving processes," said Lori Kinser, Factory Xpress Product Manager at TradeCard, Inc. "The majority of solutions today are outdated or simply inadequate in fulfilling today's increasingly complex supply chain requirements. A growing number of our customers use Factory Xpress to enforce pre-pack and musical size run requirements and to generate compliant UCC-128/EAN carton labels. More importantly, they're leveraging Factory Xpress to enable cross docking and direct shipment programs, and to support packing and shipping postponement. Minimizing markdowns, out-of-stocks and unplanned shipments has a real impact on profit margins for brands and retailers."
Companies such as Patagonia and Columbia Sportswear use Factory Xpress for:

Advanced packing and shipping support
o Bulk, pre-pack, Garments on Hanger, mixed pre-pack
o Direct ship, mark-for-store, cross-dock

In-plant carton label printing / carton label ordering
Scanning options (scan pack & pack scan, shipment scan)
Packing list / ASN creation
Integrated ticket ordering / in-plant printing
Real-time transaction-based visibility into product and factory status
Factory Xpress drives supply chain visibility, agility, speed and compliance to deliver:

Faster speed to market
Improved ASN accuracy and timeliness
Reduced warehouse and transportation costs
Reduced manual processes and associated costs
Reduced charge-backs, stockouts and markdowns
Faster implementation of new shipment programs, at a lower cost
About TradeCard, Inc.
Since 1999, TradeCard, Inc. has transformed global supply chain collaboration by boosting visibility, cash flow and margins for over 10,000 brands, retailers, suppliers and service providers operating in 78 countries. TradeCard delivers a cloud-based network that enables complex, multi-enterprise sourcing transactions across multiple layers of the supply chain. More than 45,000 individual users leverage the TradeCard Platform to streamline transaction flows, from purchase order through production tracking, shipment and payment. Embedded financial services throughout the supply network reduce capital costs and minimize risk. Multi-enterprise collaboration on the platform delivers visibility into the movement of goods, from raw materials to the store shelf. TradeCard's on-the-ground trade experts around the world allow entire supply networks to rapidly join and drive value through the platform.
The world's leading retailers and brands, including Levi Strauss & Co., Columbia Sportswear, Guess and Rite Aid, leverage the TradeCard Platform and its member network for sourcing and global trade. TradeCard, Inc. is headquartered in New York City, with offices in San Francisco, Amsterdam, Hong Kong, Shenzhen, Shanghai, Taipei, Seoul, Colombo and Ho Chi Minh City. TradeCard is located online at http://www.tradecard.com.
# # #