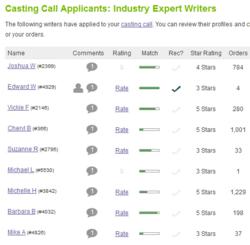 We are excited to once again establish our leadership position with innovation in the writing industry.
(PRWEB) November 27, 2012
WriterAccess, the content development platform that hosts a network of more than 5,000 professional writers, announced the launch of Casting Call 2.0, a revolutionary tool used for recruiting specialty writers in the online writing marketplace.
Casting Call 2.0, the latest addition to the company's host of content services, provides a more sophisticated matchmaking service compared to its original design. Customers now give details on projects, including skill set, tone, style requirements and more. The technology identifies values like proficiency and industry expertise, and notifies writers who match such qualities. The Casting Call is sent out via the writer's email with complete project details. Writers who are available and interested can apply with one click, putting their name in the hat. All the applicants are ranked based on an algorithm that pulls data from the writer's working history and profile.
Byron White, founder of WriterAccess, noted, "A few years ago, we launched Casting Calls as a method to help customers find writers and screenwriters for projects. Our competitors—namely TextBroker—copied the concept, so we decided to take the matchmaking service to the next level, to leave our competition in the dust."
A new feature of the tool allows customers to connect with WriterAccess staff for advice. For no additional fees or costs, customers can ask for personal recommendations from their dedicated Account Manager.
"We are excited to once again establish our leadership position with innovation in the writing industry," said Byron White. "But that is just the beginning, really. We are rolling out a lot more innovation in the next few months."
WriterAccess is an online marketplace connecting customers directly with expert writers. It's a Platform-as-a-Service developed by ideaLaunch, a leading provider of content marketing services and solutions. The company's mission is to make it easy to create content with great writers and editors that all have the passion, expertise and experience needed to help grow a business organically—the content marketing way. Further information is available at http://www.WriterAccess.com or 617-227-8800.