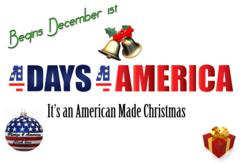 Imagine...A country that buys from its own...again.
Boston,Ma (PRWEB) November 28, 2012
4 Days 4 America is set to begin on December 1st to bring awareness to American consumers of the many options of American Made products. The movement asks Americans to pledge to buy 4 Made in the USA products during the 4-Day event, and throughout the holiday season, which has the potential to influence American consumers' shopping habits.
4 Days 4 America hopes to continue its impact of American Made products in the United States. Recently, American Made products have seen a growing demand by consumers, causing many retailers to begin adding more American Made products to their product shelves.
4 Days 4 America is asking Americans to ponder the concept of buying from their own again. Consumers can pledge on http://www.4days4america.com and are able to find a great selection of American Made products on the website. When a pledge is made, that consumer is offered a discount by the manufacturer. By making that discounted purchase, the consumer is now re-introduced to the quality and value of American manufacturing.
4 Days 4 America is supported through the radio network Internet Radio America, which has an American Made show with guests, manufacturers, distributors, advocates, and virtually everyone involved in the American Made Movement. Many American Made companies are offering discounts for this event on the 4 Days 4 America website. The live show airs weekly on Wednesday evening at 7pm ET.
This Wednesday 11/28/12 from 7-9pm ET. will be the kickoff event for 4 Days 4 America this holiday season on the American Made radio show. Manufacturers from all over the United States will join in the event to speak on their commitment to the American Made movement, and support through pledging through 4 Days 4 America. The special will also be available in podcast form by going to http://www.internetradioamerica.com
4 Days for America is a way for Americans to pledge to buy 4 American Made products this holiday season and become a part of history by supporting this cause. For more information, visit http://www.4days4america.com to pledge and get more information.
More information on the radio event may also be found at http://www.internetradioamerica.com.