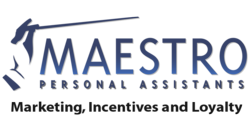 Maestro's new website reflects our continued commitment to providing the best marketing solutions and branded personal assistant service available.
Dallas, Texas (PRWEB) November 27, 2012
Maestro Personal Assistants, a Dallas-based marketing and loyalty company, announced the launch of its new, improved corporate website. The new site has been totally redesigned and expanded to include detailed, easy-to-navigate information about the company, its service, and the substantial benefits they offer. It can be found at personalassistants.com.
Maestro provides companies with high-impact marketing and loyalty programs that offer a unique customer incentive: cell phone access to a live personal assistant and information service branded in the company's name. The way the branded 24/7 service works is simple. The company's customers call a dedicated toll-free number to reach a member of a personal assistant team. That assistant will welcome them by name, followed by a greeting customized from the company. After the caller receives help with any question or phone/internet-based task they need, they'll hear the company's name again with its tagline, slogan or other message.
"Our company has experienced substantial growth in the past few years," said Adam Alfia, Maestro's Managing Director. "Our new website was created to reflect that growth, as well as our continued commitment to providing our Fortune 500 and other prestigious clients with the best marketing solutions and branded personal assistant service available."
Maestro's service is a compelling incentive designed to help generate greater sales and customer satisfaction. Plus, constantly hearing a company's name when a customer calls helps build long-term loyalty unmatched by other marketing programs or campaigns. Besides customers, Maestro's program can also benefit corporate employees or members of large organizations. The service is available in English and Spanish. Recently, Maestro added French-speaking assistants for its expansion into Canada.
For more information on Maestro, call 888-500-1411 or visit the new site at personalassistants.com.
ABOUT MAESTRO PERSONAL ASSISTANTS
Based in Dallas, Texas, Maestro has been providing affordable branded personal assistant-based marketing and loyalty programs for any kind of company in every industry with any type of product or service for almost a decade. Recently, Maestro ranked 46 on the Dallas 100™ list of fastest growing companies in North Texas.
# # #