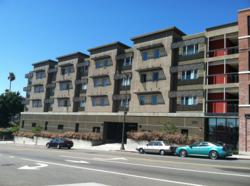 Promise Energy's design and financing expertise are enormously valuable in helping us complete projects on time and under budget.
(PRWEB) November 27, 2012
Promise Energy represents the new face of solar financing in California. Today the company announced a partnership with East LA Community Corporation (ELACC), winner of Southern California's Multifamily Developer-of-the-Year Award, to provide solar water heating and solar electricity for two new projects in East Los Angeles. The partnership signals another step forward for a solar company quickly emerging as a leader in full-service solar solutions for the multifamily market throughout California and the Western United States.
"We're proud to partner with affordable housing organizations like ELACC to save energy, reduce operating costs and increase property values with solar water heating and photovoltaics," said Jonas Villalba, VP of Sales for Promise Energy. "It's a great example of what's different about Promise: we're not only selling top-quality solar equipment. We provide project financing, system design, and top-quality installation to help ensure that every project can go solar."
Backed by the resources and expertise of their founders at leading national solar finance company Adam Capital, Promise Energy is changing the game by offering multifamily developers a complete portfolio solution that offers solar thermal and solar electricity for both new construction and existing projects.
With an inventory of top-quality solar equipment, in-house engineering and a suite of financing tools, Promise Energy can quickly generate cost-saving proposals for virtually any project. The company is making it easier than ever for multifamily housing projects and other commercial customers to take advantage of solar energy for little or no upfront investment, while still saving thousands of dollars a year on utility bills.
"A key component of building quality affordable housing is sustainability," said Maria Cabildo, President of ELACC. "We originally wanted solar water heating for the historic Boyle Hotel project, but had to make the tough choice to let it go during the development process to stay within our budget. But now, with a Promise Energy Solar Savings Agreement, we can generate immediate savings for the project with no upfront investment. We're very excited about this partnership with Promise Energy, because it enhances the Boyle Hotel's sustainability over the long term."
In addition to the 51-unit Boyle Hotel – Cummings Block project, Promise Energy is providing solar water heating and solar photovoltaics for ELACC's new 53-unit Sol y Luna project, currently in development.
"By integrating solar into our design process from the beginning, Promise Energy is maximizing the value solar brings to Sol y Luna, and actually helping improve the project's bottom line – in addition to all the energy savings the systems will generate. With solar becoming standard on new affordable housing projects for local permitting and tax credit requirements, Promise Energy's design and financing expertise are enormously valuable in helping us complete projects on time and under budget," said Ernesto Espinoza, Director of Real Estate Development for ELACC.
"ELACC is not alone," said Andy Mannle, VP of Strategic Development for Promise Energy. "We find many affordable housing organizations who appreciate the benefits of solar, but need an experienced partner who understands low-income housing to design solutions for both new projects and existing buildings that make financial sense. We bring the whole package: financing, equipment, design, installation, permits, construction management, tax credits, state incentives – all of it."
"Our ability to serve a client's entire portfolio with solar packages custom tailored for each project, is what makes Promise Energy unique" said Villalba. "We're proud of that difference. It's what makes us true solution providers for our customers."
About Promise Energy, Inc.:
Promise Energy Inc, is a full-service solar company dedicated to serving the commercial and multifamily market throughout California and the Western United States. With our custom Promise Energy Solar Savings Agreements; large inventory of top-quality equipment; and in-house engineering and design, we're partnering with building owners and tenants to save energy, and reduce operating expenses. Founded by the leadership team at Adam Capital Inc, a leading financier of rooftop-scale solar projects throughout the country, Promise Energy provides unparallelled financing options and expertise for both solar water heating and photovoltaics. We offer commercial and multifamily projects long-term energy savings, increased net operating income, and full solar tax benefits with little or no upfront investment. To find out more, contact us at http://www.promiseenergy.com.
About East Los Angeles Community Corporation:
ELACC is a nonprofit community development corporation focused on developing affordable housing, improving neighborhood assets and providing access to economic development opportunities for low and moderate income families in the neighborhoods of Boyle Heights and East los Angeles. Since its inception, ELACC has developed nearly 360 affordable housing units, organized community residents to advocate for change, and counseled low income individuals to build personal assets through homeownership, education, and building viable businesses. By harnessing over $124 million in housing and other community development resources, we improve the quality of life for approximately 2,000 people every year - people who need not only homes, but a comprehensive, integrated approach to overcoming poverty and transforming their community. Find out more at http://www.elacc.org.