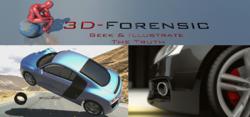 15 years of experience and an admission rate of 100%, enough said
San Francisco, CA (PRWEB) November 27, 2012
One of the most advanced forensic animation and 3D-laser scanning firms opens new offices in the heart of San Francisco. For the first time, Bay Area attorneys will have access to the latest 21st century technology without having to leave the city, and in most cases, not even leaving their own offices. 3D-Forensic's new offices are located at:
3D-Foresnic, Inc
One Market Street
Spear Tower, Suite 3600
San Francisco, California 94105
(415) 754-7772
Lead by CEO Jason Fries, 3D-Forensic brings world class forensic animation, 3D-laser scanning, laser-based photogrammetry, video analysis, animation over video and 15 years of experience to the heart of San Francisco's financial district. To celebrate their arrival to San Francisco 3D-Forensic, Inc. is offering free in-office CLE classes to firms in the Bay Area. Contact them at (415) 754-7772 or email them at sales(at)3D-forensic(dot)com for more information.