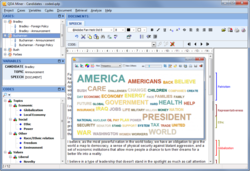 QDA Miner Lite has been designed to meet the basic needs of researchers and analysts performing qualitative data analysis.
Montreal (PRWEB) November 27, 2012
Provalis Research is pleased to announce the release of QDA Miner Lite, a free version of its popular computer assisted qualitative data analysis software, QDA Miner. This new freeware provides an easy-to-use tool for coding, annotating and analyzing collections of documents and images such as interview or focus-group transcripts, journal articles, web pages, or customer feedback.
QDA Miner Lite has been designed to meet the basic needs of researchers and analysts performing qualitative data analysis. Advanced features have been removed from the full version of QDA Miner, such as several text retrieval tools (query-by-example, section retrieval, clustered coding, etc.), analysis features (clustering, multidimensional scaling, crosstab, etc.) and advanced code management tools. All the essential features for importing, coding, annotating documents and images and for retrieving coded segments have been kept, creating an easy-to-use qualitative coding tool ideal for those on tiny budgets (or no budget) or those who wish to teach qualitative research in classes.
QDA Miner Lite features include:
Importation from a wide range of documents (Word, RTF, PDF, HTML) and image file formats (JPG, PNG, BMP, WMF).
Importation from spreadsheets, databases and other qualitative data analysis software.
Intuitive on-screen qualitative coding and annotation of texts and images.
Ability to add comments (or memos) to coded segments, cases or the whole project.
Boolean text search tool for retrieving and autocoding of text segments.
Code frequency analysis with bar chart, pie chart and tag clouds.
Coding retrieval with Boolean (and, or , not) and proximity operators (includes, enclosed, near, before, after).
Exportation of tables to XLS, Tab Delimited, CSV formats, and Word format.
Exportation of graphs to BMP, PNG, JPEG, WMF formats.
New single-file project format.
Interface and help file in English, French and Spanish.
To learn more about QDA Miner Lite and download the software, visit the QDA Miner Lite product page.
About Provalis Research
Founded in 1989, Provalis Research is a world-leading developer of text analysis platforms with innovative qualitative, quantitative and mixed methods analysis software. Provalis Research tools are used by more than 2,000 governments, international corporations, NGOs, universities, and independent research leaders worldwide.