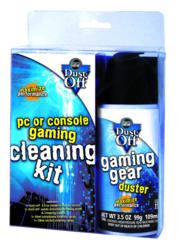 Branchburg, NJ (PRWEB) November 27, 2012
Dust-Off®, the leading brand of consumer electronic cleaning products, is offering a variety of gifts to help consumers keep their new electronic devices free of dust, dirt and fingerprints with their extensive line of cleaning products. The holiday season is quickly approaching and in the spirit of giving many people receive the latest gadgets, but what good are these items if they don't look and perform their best?
From televisions, to tablets, to the latest gaming systems, Dust-Off's screen cleaners and tailored kits are a safe and effective way to clean all types of products. Dust-Off's cleaners are an easy and affordable way to keep electronics looking and running like new, and are ideal to be gifted along with trendy gadgets this holiday season.
•Tablets & E-Readers- There are many selections of tablets and e-readers to pick from on the market. When giving one as a gift this holiday season, people will be able to enjoy books, photos, web pages, and so much more on the go. To keep the content crystal clear on the screens of these high tech gadgets, Dust-Off has a Premium Tablet Screen Cleaning Kit for removing dirt, grime, and fingerprints, so users can get the full experience of their tablet or e-reader. For an affordable price, this option is ideal to give someone with the latest tablet or e-reader to make sure that they can fully enjoy the possibilities of working and playing on the go.
•Gaming Systems- When gaming gear collects dust it has a big impact on its performance. To avoid lint and dust from building up around cooling fans try Dust-Off's Game Gear Cleaning Kit. This kit will ensure that gaming equipment is running at maximum performance levels, and will help avoid potential system crashes that are sometimes associated with dust build up. The Game Cleaning Kit also comes with a specially formulated spray that is ideal for cleaning gaming discs and screens, making this kit the perfect gift for any gamer this holiday season.
•HDTV-LCD/Plasma TVs- The latest in TV technology is always one of the hottest gifts of the Holiday season. With new screen technology constantly emerging, Dust-Off has kept up with the curve and offers a Premium Electronics Screen Cleaning Kit that is safe and effective for cleaning LCD and plasma LED TV's. Available in 1.69oz and 6.76oz sizes, the Premium Electronics Screen Cleaning Kit's spray can be sprayed directly on screens because of the exclusive "no-run" formula. Its non-aerosol formula contains no VOC's or alcohol allowing users to clean their TVs without damaging the screens. The Screen Shammy™ Microfiber Cloth safely wipes and polishes screens clean without leaving behind streaks or residue and is machine washable for repeat use.
•Smart Phones- The newest smart phones will be on everyone's list this year, and keeping them free from annoying fingerprints and facial oils can sometimes prove to be an impossible task. Dust-Off's Ultimate Screen Care Kit makes the impossible possible. With the ability to be used on all kinds of screens, including this year's hottest smart phone, this kit includes 1 – 50ml Screen Spray, 1 – Screen Shammy for use on various devices, 1 – Plasma Screen Cloth, 1 – CD/DVD Cloth for media disks, 1 – Sweep mobile cleaning pad. All components are packaged in a zippered storage case that makes it the ideal stocking stuffer.
All of Dust-Off's cleaning products are currently available and can be purchased at http://www.dust-off.com/products.
About Dust-Off®
Manufactured by Falcon Safety Products Inc., a world leader in compressed-gas technology, Dust-Off offers the most comprehensive line of dust removing and preventive maintenance products for consumer electronics and home or office equipment. Dust-Off compressed-gas dusters are one of the most versatile cleaning accessories available to consumers today and have long been a staple for the care and maintenance of computers and other electronic equipment. For additional information, please visit http://www.Dust-Off.com or follow on Facebook at http://www.Facebook.com/KeepitDustOff.