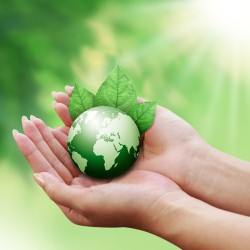 The trend is destructive, both for the consumers who buy a product based on eco-friendly label claims and the corporations and manufacturers whose actual environmentally friendly efforts are being overshadowed by misleading claims.
Denver, CO (PRWEB) November 27, 2012
Lightning Labels, a custom label and sticker printing leader, is increasing awareness of a not-so-new fad - "greenwashing" - that has been used frequently by manufacturers as a means to capitalize on consumers' desires to see eco-friendly labels and stickers.
"'Greenwashing' is a fast-growing trend, and some would venture to say that green is really the new black," says Business Development Manager AnneMarie Campbell. "But the trend is destructive, both for the consumers who buy a product based on eco-friendly label claims and the corporations and manufacturers whose actual environmentally friendly efforts are being overshadowed by false or misleading claims by competitors."
The History of 'Greenwashing' and False Eco-Label Claims: The term "greenwashing," now commonly used in the labeling industry, came about in 1986 when an environmentalist exposed non-environmentally friendly practices in the hospitality industry, calling for people to reuse towels as a way to preserve the Earth and its environment. Greenwashing is a combination of the words green, meaning eco-friendly, and whitewashing, meaning purposefully covering mistakes or errors, and means intentionally using green claims to make people believe a product is eco-friendly.
Greenwashing may include calling products organic, natural, green or recycled when the products are not. Greenpeace, an advocate for eliminating greenwashing and companies' false claims about being eco-friendly, says most manufacturers resort to this strategy to increase their sales and try to make money from consumers who have a genuine interest in supporting products that save the Earth.
Lightning Labels Warns of the Damage Caused by Misleading Environmentally Friendly Labels: There are several problems that may rise when companies knowingly use misleading environmentally friendly labels. For starters, it's making consumers quite confused as to what it really means for a company to be green. The eco-friendly market has become competitive - some may even call it oversaturated - and now gives people the opportunity to compare prices for eco-friendly products that have traditionally been more expensive.
The problem, however, is when companies that play by the rules and actually do offer green products aren't able to lower prices enough to remain competitive, allowing greenwashing companies to take more business from honest companies, which perpetuates the cycle and continues to take advantage of unknowing consumers.
Stopping The Cycle By Demanding Honest Labels: Although consumers have traditionally been the victims of these false eco-friendly label claims, more people are taking a stand against companies that use misleading label tactics.
This sends a powerful message to companies, especially those that choose to make false claims and exaggerate their eco-friendly efforts. Instead of being an easy target for these businesses, consumers are now making it their mission to turn the tables on deceitful companies, making their inaccurate claims public. This has potential to damage a company and severely harm its reputation. In a competitive market, this will likely cause more than just corporate embarrassment - it could destroy a business's reputation.
Lightning Labels has been doing its part to provide people with environmentally friendly label materials and stickers. In addition to offering recycled kraft and vellum sticker and labels materials, manufacturers can also purchase BioStone products - made from stone, not trees - and EarthFirst PLA labels, which are eco-friendly and made from corn.
To order truly eco-friendly custom stickers and environmentally friendly labels made with green materials like EarthFirst PLA, Lightning Labels is offering a four-day sale that runs from November 29, 2012 through December 2, 2012. Save 10% off new label orders placed online. Simply use promo code 4DAYS at checkout. The promo code 4DAYS is valid on new label orders placed online only and does not apply to reorders. Free ground shipping applies to regularly priced orders shipped within the United States and Canada, but shipping charges apply for printed press proofs. This offer cannot be combined with any other offers or promotions.
About Lightning Labels:
Lightning Labels uses state-of-the-art digital printing technology to provide affordable, full-color custom labels and custom stickers of all shapes and sizes, and now offers a full line of custom packaging products. From small orders for individuals, to the bulk needs of big businesses, Lightning Labels is equipped to handle and fulfill sticker, label and product packaging projects of all types. Best of all, like the name implies, Lightning Labels provides a quick turnaround to every customers' labeling and product packaging needs. Uses for Lightning Labels custom product labels and custom stickers include food packaging and organic food labels, wine and beverage labels, bath and body labels, and nutraceutical products, such as vitamins, essentials oils, and herbal remedies, as well as event stickers, adhesive window stickers and more. Lightning Labels strongly supports the development of environmentally friendly printing materials and carries EarthFirst PLA, a new kind of green label material made from corn instead of petroleum. While operating as a high-tech printer, Lighting Labels prides itself on its personalized customer service. Lightning Labels provides one stop shopping for all of your label and product packaging needs. For more information and to place orders online, visit LightningLabels.com. For the latest in packaging news and labeling promotional offers, find Lightning Labels on Facebook, Twitter (@LightningLabels), and Google+.