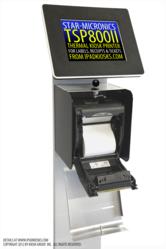 Frederick, MD (PRWEB) November 27, 2012
Today, Star Micronics America, Inc. and Kiosk Group, Inc. announced a joint venture to offer a much-needed, cutting-edge iPad® kiosk solution. Kiosk Group, Inc. is a Maryland-based company serving international clients and specializing in kiosk hardware and software. It recently released its Kiosk Pro Enterprise software to transform an iPad® into a fully-functional kiosk. Kiosk Pro Enterprise software, which supports most Star printers, offers users a large array of custom options, including the ability to interface with typical kiosk hardware such as magnetic card swipe, Bluetooth bar code scanners, and thermal receipt printers. "The iPad® has been a game-changer in the kiosk industry, drastically cutting the costs of interactive touchscreen kiosks," says Mike James, President of Kiosk Group Inc.
Kiosk Group now offers an optional printer module for their iPad® kiosk line which is designed specifically to house Star's TSP800II and print labels, receipts and tickets. The TSP800II easily syncs with the Kiosk Pro Enterprise software and enables printing from the iPad® kiosk. One of the main attractions of the TSP800II is effortless direct thermal printing to widths from 2.3" to 4.4" at an ultra high speed of 37 receipts per minute (180/mm/sec) at 203 dpi. It is the perfect printer for high traffic kiosks that require high volume printing along with the need to print a significant amount of information on a receipt. The printer comes with a standard 3-year warranty.
"We are excited about the relationship we have formed with the people at Kiosk Group," states Christophe Naasz, Director of Marketing at Star Micronics, "I am confident that Star printers can add even more value to Kiosk Group's iPad® kiosk units and enhance the overall experience for kiosk end users."
About Star Micronics America
Star Micronics America, Inc. is a subsidiary of Star Micronics Company Ltd., the second-largest small printer manufacturer world-wide. Star Micronics also manufactures audio components, high-precision machine tools, and precision parts. Star Micronics Company Ltd. is ranked as one of the Top 50 "Most Stable" Japanese companies on the Japanese Nikkei. For more information, visit http://www.starmicronics.com or call 800-782-7636.
About Kiosk Group, Inc.
Kiosk Group, Inc. is a Maryland –based company serving international clients and specializing in iPad® kiosk hardware and software through its kioskproapp.com and ipadkiosks.com websites. The staff at Kiosk Group has developed hundreds of interactive applications for interpretive exhibits, transactional kiosks, sales exhibits and others for over 30 years, plus has designed, fabricated and delivered thousands of kiosk enclosures since 2003. For more information, visit http://www.kioskgroup.com or call 301-637-8333.