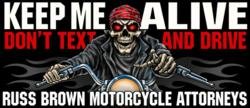 Los Angeles, CA (PRWEB) November 27, 2012
It may seem pretty straightforward to most of us, but despite the warnings, distracted driving has still become an epidemic in the United States of America. According to http://www.distraction.gov, "18% of injury crashes in 2010 were reported as distraction related crashes". What's more telling is that "Drivers who use hand-held devices are 4 times more likely to get into crashes serious enough to injure themselves". Scary statistics considering the fact that "Text messaging creates a crash risk 23 times worse than driving while not distracted because sending or receiving a text takes a driver's eyes from the road for an average of 4.6 seconds, the equivalent-at 55 mph-of driving the length of an entire football field blind." Of all cell phone related distractions including talking, dialing, or reaching for the cell, texting while driving is the most dangerous. Considering the traffic on today's roads, that should be enough to scare us all into putting down our handheld devices. Think about the impact of that on motorcycle riders let alone four wheeled vehicles. Motorcycle accident fatalities are increasing again after many years of seeing declining numbers. Staggering….
Hopefully this campaign will help make drivers think twice about distracted driving and maybe even convince those who still text while driving to stop. Common sense—which still doesn't seem so common, and new laws, both should, and eventually will, reduce the risk of injury on the road. Russ Brown Motorcycle Attorneys supports these laws and the common sense approach most vehicle operators take when getting behind the wheel . "Keep Me Alive Don't Text And Drive" stickers are available to anyone interested in showing support for this extremely important safety initiative by ordering online at http://www.killabikergotojail.com or by calling 1-800-4-BIKERS or 1-800-424-5377.
Help convince drivers everywhere to put down their handhelds.