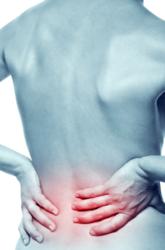 Thanks to modern pain management with Florida Pain, less than 5% of those experiencing symptoms end up needing surgery
Merritt Island & Melbourne, Florida (PRWEB) November 26, 2012
Herniated discs are extremely common in America and often lead to a pinched nerve. When a nerve is compressed, inflammation is sparked up leading to sciatica pain. Pain radiates through the area that the particular pinched nerve supplies sensation. This may be into the thigh, calf and foot as well. Back pain may be substantial along with sciatica, or absent.
At any one point in time, over 3 million Americans are afflicted with sciatica, which is characterized by a burning, electrical type pain in the affected leg. It may lead to numbness along with a pins and needles sensation. The pain may wax and wane, or it may be so severe as to keep one out of work and disabled.
Thanks to modern pain management with Florida Pain, less than 5% of those experiencing symptoms end up needing surgery. While surgery typically has satisfactory results, there are small but real risks that are avoided with successful nonoperative methods. Pain relief is achieved, and the risks of surgery are avoided.
The variety of treatments offered by Florida Pain include a comprehensive combination of traditional and conservative therapies. With an Award Winning team of Board Certified Pain Doctors and Chiropractors administering customized treatment for sciatica, patients usually achieve excellent pain relief.
Depending on each individual patient's presentation, treatment options include:

Medication Management – Narcotics, Muscle Relaxers, NSAID's, Medrol Dose Paks, Neurogenic Medications (e.g. Lyrica)
Chiropractic Treatment
Physical Rehabilitation/Physiotherapy
TENS Units
Acupuncture & Massage
Spinal Decompression Therapy
Epidural Steroid Injections – 3 different types
Trigger Point Injections
There is no "black and white" formula for sciatica treatment. Patients may need injections initially just to be able to initiate the rehab treatment, or it may be that medications plus a TENS unit may subside the burning pain. The objective at Florida Pain is to keep the pain well under control while the herniated piece of disc is disintegrated by one's own body. The success rate is well over 90% with nonsurgical methods.
To learn more or schedule online visit FloridaPain.net or call 321-784-8211