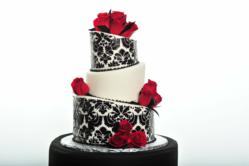 Las Vegas, Nevada (PRWEB) November 26, 2012
The owners of the Las Vegas Pastry Palace, which serves the entire Las Vegas area and its neighboring communities, now provides Beginning Cake Decorating Classes for the exploration of sugar artistry at the fundamental level upon which all other cake design techniques build.
These classes introduce the basic embellishing techniques used to create a unique design for fundamental cake shapes.
Embracing the belief that "Cake decorating is an enjoyable activity that should be undertaken by everyone at some point in their lives," the owners of Las Vegas Pastry Palace want to make it possible for the newly intrigued to acquire the basic skills of sugar artistry. While each class is tailored to the most basic level of cake decorating skill, it is possible that some variation may exist. Therefore, in order to maintain an individualized level of attention from the master baker at all times, no more than eight students may be enrolled in any decorating class.
The owners/master decorators of the Las Vegas Pastry Palace invite new students to register online for this beginning workshop. The only prior experience that is needed involves a sound knowledge of cake preparation. It is recommended that students without this level of skill first enroll in Course #101 – Cake Preparation before taking Course #102 – Beginning Decorating Techniques. Las Vegas Pastry Palace provides all decorating tools and ingredients needed for this fun and exciting experience – even the cake. This beginning course, as well as all others, is held at the bakery's address, 4523 West Sahara Avenue in Las Vegas.
Las Vegas Pastry Palace is a family-owned bakery specializing in one-of-a-kind cakes, cupcakes, pastries, and baked goods crafted from scratch without the use of artificial preservatives. The master decorators provide tailored cake decorating classes offering a high level of experiential learning in order to bring the unique skills of sugar artistry to beginners as well as to enable professional bakers to enhance their existing abilities. Their local reputation as a superior bakery is recognized by many residents of the Las Vegas area.
Pastry Palace
4523 West Sahara Avenue
Las Vegas, NV 89102
info(at)PastryPalaceLV(dot)com
702.251.1555
Pastrypalacelv.com
# # #