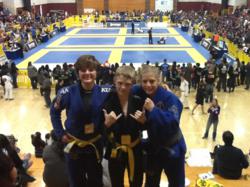 "As long as the demand for the program continues to grow, we will continue to accommodate."
Elkridge, D (PRWEB) November 26, 2012
Crazy 88 Brazilian Jiu-Jitsu is now picking up children from Elkridge Elementary School and surrounding schools within the proximity of the greater Baltimore area.
Head instructor Julius Park responded in regards to the expansion, "As long as the demand for the program continues to grow, we will continue to accommodate."
The children included in the after school program receive a number of exclusive activities and classes which are fundamental for their development both physically and intellectually. Engaging in the multiple disciplines taught at Crazy 88 Brazilian Jiu-Jitsu will benefit the children in a multitude of ways.
The program is supervised by coaches who have multiple years of experience in supervising children. The children featured in the program will enjoy a private class in martial arts, complete schoolwork overseen by their college-educated staff and benefit from the positive character traits installed. This is valuable for the kids future due to the fact that their engaging in activities which stimulate their mind, body and soul rather than simply watching television after school.
The after school program staff at Crazy 88 Brazilian Jiu-Jitsu is second to none. All of the instructors are athletes who have competed in Muay Thai, Brazilian Jiu-Jitsu and even Mixed Martial Arts. Crazy 88 Brazilian Jiu-Jitsu is a member of Team Lloyd Irvin, which is known for producing the top youth program in Jiu-Jitsu each and every year.
Crazy 88 Brazilian Jiu-Jitsu is great for preparing your child for success in their future endeavors. It will help your child increase their confidence, self-esteem, discipline, while teaching them life skills that will last them a lifetime.
If you have a child that attends Elkridge Elementary School and would like to learn more about Crazy 88 Brazilian Jiu-Jitsu's Afterschool program please visit the website - http://www.BaltimoreMixedMartialArts.com