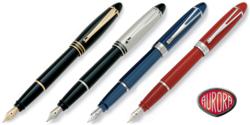 Toronto, Canada (PRWEB) November 29, 2012
It is not often that a fine writing instrument is designed by a major cultural doyen, but Italian writing specialist Aurora has among its famed pens the Aurora 88, the brainchild of Marcelo Nizzoli, an architect, fashion designer and, like Fendrihan, lifestyle specialist who helped helped define the culture of the 20th century. The Aurora 88 fountain pen has recently been reissued, and is available to discerning men along with a number of other handsome pens never before obtainable in a Canadian retail outlet.
Fendrihan's acquisition of Aurora fountain pens, ink and ink cartridges opens up a whole new world to the North American fountain pen writing public. Eager pen enthusiasts can now rely on the Toronto-based online retailer to supply a trusted source of these highly sought-after writing tools, avoiding the unreliability of the occasional Aurora auction or the uncertainty of stumbling onto a rare lucky find in the second-hand markets.
About Fendrihan:
Fendrihan is a Canadian-based online vendor that supplies elegant gifts for men as well as fine shaving and grooming products from all over the world. With a range of products that is constantly growing and expanding, it is no surprise that Fendrihan has an international following. The Fendrihan compendium also includes fine writing instruments and standout European leather accessories offering the organization and clever convenience demanded and appreciated by their customers.