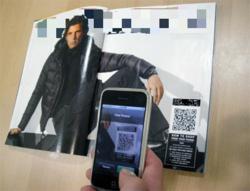 The qAdverts platform allows my business to instantly create specific deals or promotions (Adverts) that are relevant to my customer now!
Cherry Hill, NJ (PRWEB) November 28, 2012
Phiga Corporation announces a new service, called http://www.qAdverts.com that allows all of printed business marketing literature to "come alive" and directly engage perspective customers immediately at the time of interaction. With no technical background or infrastructure, any business can create various marketing adverts to promote deals, specials, coupons, events or offerings. By using a unique custom QR code issued by the qAdverts platform, anyone scanning the code will immediately see always up-to-date, mobile-ready marketing adverts that the business has setup along with company information, directions and ability to always be updated with future offerings. Business marketing adverts are "sticky" and can be added, changed or modified anytime.
With no technology overhead and zero additional costs, any printed or displayed piece of information can now be tied to a specific qAdverts business account to receive special deals. These deals or promotions are relevant to a particular situation or time and can be displayed directly on any Smartphone. Any business, whether it is a hoagie shop promoting a lunch special, or a local shirt cleaners offering a coupon on a slow day, or a machine shop providing information on a part, can now take advantage of this technology starting at $4.99 / month. The qAdverts Platform allows businesses to dramatically stretch the effectiveness of their marketing dollars with no technology overhead.
Various statistics are provided to see what Adverts are being used, when and how often. Since everything is controlled by the business, various changes and optimizations can happen dynamically and take effect instantly. Whether it's a deal on a product or service, or a ticket to an event, qAdverts brings the printed word alive.
###
PHIGA Corporation is smart solutions development company that specializes in software and technology development for private, non-profit, and government markets.