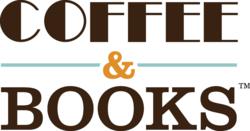 [CoffeeandBooks.com] puts titles our customers may not have heard of on the same playing field as reads from larger publishers, with its best-sellers earning shelf space at our stores. — Mark Christenson, vice president of marketing, Dunn Bros Coffee
MINNEAPOLIS, Minn. (PRWEB) November 27, 2012
Local coffee shops just got a jolt of energy from CoffeeandBooks.com, an entrepreneurial online bookstore with the intent to connect book-loving coffeehouse-goers with up-and-coming, high-quality books. The site attracted more than 1,500 new members in the two weeks following its launch, and is now selling a rotating selection of its books at brick-and-mortar coffeehouses.
The online book retailer's first coffeehouse partner is Dunn Bros Coffee, a Minnesota-based coffee company with more than 80 retail locations. Now 60 participating stores are offering space to eight books, including four of the site's current best-selling titles. Customers who purchase a book at Dunn Bros Coffee stores will receive a free handcrafted beverage of their choice on their next visit.
Participating Dunn Bros Coffee stores also offer in-store rewards for CoffeeandBooks.com members, including a 12 oz. coffee for joining the free site, a $5 Dunn Bros Coffee gift card with each online print book purchase and a gift card worth 20 percent of the eBook price for eBook purchases. When book clubs reserve meeting space at Dunn Bros Coffee via CoffeeandBooks.com, the group gets free brewed coffee refills and 15 percent off beans and food purchases during their visit. Members will also have exclusive access to book signing events, author readings and workshops as well as opportunities to purchase advanced copies of new books.
CoffeeandBooks.com is actively seeking coffeehouse partners that have 10 or more stores and a central warehouse or other facility to receive pallets of books and distribute them to individual stores. The site is designed to help coffeehouses attract repeat customers through in-store and online events, generate additional revenue through book sales and drive store traffic via rewards and location promotion through the CoffeeandBooks.com website.
"Our stores regularly shine the spotlight on works from budding musicians and artists, and CoffeeandBooks.com gives talented authors the same opportunity," says Mark Christenson, vice president of marketing, Dunn Bros Coffee. "The site puts titles our customers may not have heard of on the same playing field as reads from larger publishers, with its best-sellers earning shelf space at our stores. We've held popular book events in the past, but CoffeeandBooks.com takes this to the next level by helping our intellectually curious customers discover interesting new titles."
About CoffeeandBooks.com
CoffeeandBooks.com is a division of Hillcrest Media Group. Minneapolis-based Hillcrest Media Group is a technology company rooted in the book publishing industry. Its innovative team of designers, marketers, editors, ebook developers and industry visionaries believe that quality work and creative ideas push the publishing industry forward. CoffeeandBooks.com, Hillcrest Media Group's exciting new addition, is committed to helping its coffee house partners drive more customers into their stores, while at the same time exposing those customers to great books.
About Dunn Bros Coffee
Founded in 1987, Dunn Bros Coffee has successfully proven to its customers and competitors that, even in the crowded coffee category, great-tasting coffee that is carefully brewed from hand-selected, freshly roasted beans boldly stands out in a class of its own. This Minneapolis-based, award-winning coffee company was founded on the principle that premium coffee customers deserve coffee that adheres to higher standards of quality every step of the way, from cultivation to cup. From sustainable, ethical sourcing practices to daily, on-site roasting, artisan hand-made premium beverages and community-connected local ownership - Dunn Bros takes every possible measure to ensure quality coffee experiences at each of its more than 80 retail locations across the country. For more information, visit http://www.dunnbros.com.