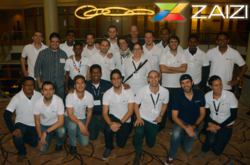 Having won partner of the year earlier this year and now to have the highest number of Alfresco certified engineers demonstrates Zaizi's commitment to Alfresco.
London, UK (PRWEB UK) 27 November 2012
Zaizi, a leading open source systems integrator is proud to announce that it has been recognised by Alfresco as having the highest number of Certified Alfresco Engineers and Administrators of any Alfresco partner globally. Following on the heels of the Alfresco Partner of the Year award, this is a tremendous achievement for Zaizi. With customers and offices in North America, Europe, Africa and South Asia, this affirms Zaizi as the leading Alfresco partner globally with the expertise and experience to deliver Alfresco solutions.
"We are thrilled to be formally recognised for our Alfresco consulting and development experience. Having won partner of the year earlier this year and now to have the highest number of Alfresco certified engineers demonstrates our commitment to the Alfresco's open platform," says Aingaran Pillai, CEO of Zaizi. "We will continue to invest in our engineering team to further their technical and professional excellence. This will ensure that we deliver the best solutions to our customers."
Established over a year ago, the Alfresco Certification program for Engineers and Administrators formally recognises an individual's advanced understanding and capabilities with the entire Alfresco platform. It ensures, that they have knowledge and skills needed to develop, deploy and maintain high performance Alfresco systems. By Zaizi's Alfresco engineering team achieving certification, Zaizi ensures that all their Alfresco implementation adhere to Alfresco best practice and the highest quality demanded by their customers.
"We rely on our partners to deliver successful Alfresco solution to our customers. The certification program gives organisations a way to identify the best and most experienced partners able to deliver their solutions," said Jean-Michel Birck, Channel and Alliances director, EMEA & APAC at Alfresco. "It is great to see partners like Zaizi invest in their Alfresco developers, to ensure they meet the highest standards Alfresco demands of our partners."
About Zaizi
Zaizi is an experienced open source information and technology consulting firm headquartered in London specialising in the Alfresco platform solutions. We work with large commercial and government organisations to improve productivity, reduce operating expenditure and reduce risk by delivering robust, scalable content solutions including document and web content management systems, portals and corporate extranets. With expert staff and strong business readiness skills, we design, build and support innovative, assembled software solutions to deliver fast-to-market and cost-effective content management solutions.
About Alfresco Software
Alfresco is the open platform for social content management. The platform combines the innovation of open source with the stability of a true enterprise-class platform, at a tenth of the cost of legacy ECM solutions. The Alfresco content platform uses a flexible architecture to provide document management, web content management, records management and social collaboration to customers and partners in 40 countries. Headquartered in London, Alfresco was founded in 2005 by a team of content management veterans including the co-founder of Documentum, John Newton, and former COO of Business Objects, John Powell.