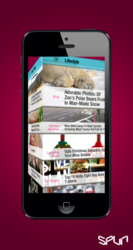 SPUN is the easiest way to keep your finger on the pulse of your city.
Brooklyn, NY (PRWEB) November 28, 2012
Brooklyn-based startup SPUN today launched the first geo-targeted, personalized iPhone news app in eleven cities across the United States. Employing hundreds of media sources, SPUN aggregates content on dining, culture, lifestyle, news, events and entertainment, and delivers the best to your iPhone. Users no longer need to filter through multiple websites, search maps, or Google-search keywords. The app can be downloaded at http://www.getspun.com.
"There's a ton of great stories being told about cities like New York, San Francisco and Los Angeles, but people can't keep track of them all," said SPUN CEO Andy Hunter. "We curate the best, most popular content, and present it in a fun and interactive way. SPUN is the easiest way to keep your finger on the pulse of your city."
"More than 200 million people in the US access local content every day," said SPUN cofounder Scott Lindenbaum. "SPUN creates an ability shift: it makes content discovery easier for people who need to have the absolute best stuff about their city or a city they're visiting. The app is simple, beautiful, and over time it will be customized for each user's tastes and location."
Hunter added: "SPUN is more than local news. It's like a savvy friend who's up on everything. And like a friend, it can tell you when you're near a restaurant you want to check out or remind you when a concert is about to start."
SPUN features a unique, fully rendered three-dimensional interface and sound by Mikael Jorgensen. To achieve a sense of tactile delight, the app is imagined as a mechanical object behind the iPhone's glass. The main navigation is a multi-faced rectangular prism that rotates horizontally. Each side represents a content category, e.g. arts and entertainment or food, where the user can browse stories on a vertically scrolling belt. Tapping a story's image carries the user to a deeper level where an interior vertical canvas displays multimedia content. At its core, SPUN is about place, so the deepest level is a content-rich map where each story is placed at its exact location.
SPUN was created by Broadcastr, a company that made headlines last year for its innovations in location-based media. With their new app SPUN, Broadcastr continues to lead the conversation about geo-targeted media.
SPUN is currently live in eleven cities: New York, Boston, Philadelphia, Washington, DC, Miami, Chicago, San Francisco, Los Angeles, Portland, Austin and Seattle, with more locations to come.
To download the SPUN app, please visit http://www.getspun.com.
About SPUN
SPUN is a startup in Brooklyn, NY, pioneering the concept of geo-targeted media. Simply put, this means publishing to a place. By connecting editorial content with real-world locations, SPUN enables users to discover content they love tied to places they care about. SPUN is taking the web and putting it back in the world where it can be discovered through mobile devices. Introducing geographical data to digital media changes conventional thinking regarding content discovery and consumption. Contextual relevance is added to maximize user engagement by combining users' social graphs and personal interests with their location to create a better consumption experience. SPUN is delivering local content in the truest sense.