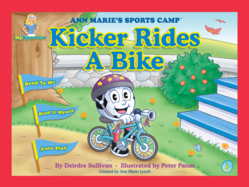 HUDSON, NH (PRWEB) November 29, 2012
The first installment of the Ann Marie's Sports Camp series is coming to the iPad and Android tablets. It's now available to download from the iTunes App Store and Google Play for $5.99.
The eBook, titled Kicker Rides a Bike, follows young Kicker's attempts to master his bicycle. Along the way, he's helped by his "Sportie" friends and animated Ann Marie's teaching techniques (which closely resemble those of real life Ann Marie). Young readers learn that "Practice Makes You a Champion" while enjoying the story.
Kicker Rides A Bike provides three enjoyable ways to keep youngsters and adults fully engaged. Auto Play, which is fully automatic, and Read to Me, which has readers turn pages with a swipe across the screen, both present a radio theater style reading of the words. Read it Myself allows children to read the words themselves, with the option to touch any word, see it highlighted, and hear it enunciated for them.
In addition, children can touch different objects and characters in the illustrations and their names are spoken as the words emerge onto the screen. There's also a song, called "Look Straight Ahead and Keep on Pedaling," integrated into the eBook.
Kicker Rides a Bike is the premiere of the Ann Marie's Sports Camp series created by Ann Marie Lynch. It was written by Deirdre Sullivan, illustrated by Peter Panas, and narrated by Nikki Lowe.
Ann Marie herself has taught life skills through sports to more than 10,000 children over the past 30 years, both at her real-life sports camp in Chestnut Hill, Massachusetts, and traveling around the world. Her pupils, some as young as 16 months, are encouraged to shake hands and make eye contact with other competitors, and always respectfully use each others' names.
Ann Marie's method is a holistic approach that uses song to reinforce teachings. Even though children are typically only with Ann Marie for one hour a week, parents always report that they repeat the songs and lessons they learn constantly.
Kicker Rides a Bike was developed by Zco Corporation, one of the largest developers of mobile applications in the world.
iPad: https://itunes.apple.com/us/app/kicker-rides-a-bike/id573889636?mt=8
Android: https://play.google.com/store/apps/details?id=com.mysporties.kicker
ABOUT MYSPORTIES, INC.
The eBook is published by MySporties, Inc. MySporties is comprised of a creative team of writers, illustrators, teachers, coaches, and social media marketers dedicated to teaching children success in life through sports and reading. The MySporties project was incubated at the Harvard Innovation Lab (i-lab), an initiative of the university designed to foster team-based and entrepreneurial activities.