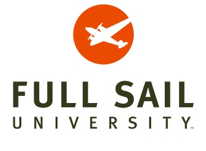 The Innovation & Entrepreneurship Master of Science degree program is designed for students interested in creating technology and information-based projects and companies, taking an idea from concept to a successful business launch
WINTER PARK, FL (PRWEB) November 27, 2012
Full Sail University is proud to announce the recent launch of three new online degree programs: the Public Relations Master of Arts, the Innovation & Entrepreneurship Master of Science and the Media Communications Bachelor of Science.
The Public Relations Master of Arts online degree program is designed to give students an understanding of the foundations of traditional PR methods along with the social media skills professionals need in order to be on the forefront of the communications industry. Throughout the 12-month program, students will examine new digital tools to produce and distribute content, learn how to execute and evaluate effective PR media plans, and leverage social media to create powerful dialogue with an organization's public and stakeholders.
"Full Sail's Public Relations Master of Arts degree is debuting at a time when PR is in the midst of a digital transformation," said Program Director Ryan Kitelyn. "This degree not only covers current traditional platforms, but challenges the student to examine and explore the dynamic nature of the 24/7 social media environment. Students will learn to use innovative tools and resources to be advocates for potential clients, companies and themselves - developing multimedia skills that will prepare them not only for careers available today, but also for those in the future."
The 12-month Innovation & Entrepreneurship Master of Science online degree program leads students from the initial conceptual stages of a tech or creative product or service, all the way to a full-fledged business plan that can be pitched to potential investors. Program courses focus on marketing strategies and ideation and feasibility studies, as well as the legal issues involved in innovative entrepreneurship.
"In today's highly competitive economy, business literacy is not an option – it's a requirement. The Innovation & Entrepreneurship Master of Science degree program is designed for students interested in creating technology and information-based projects and companies, taking an idea from concept to a successful business launch," said Program Director Ron Cook.
The 28-month Media Communications Bachelor of Science online degree prepares students with the knowledge to understand the field of media communications and to use new media communication technologies. The degree program's courses focus on theories of aesthetics and communication, as well as the workflow processes involved in creative project management, including graphic design, web design, digital video, and sound.
"Full Sail's Media Communications Bachelor of Science degree will take students through an overview of the technical aspects of media production and deep into researching and analyzing a wide array of media, all the while applying their discoveries and knowledge to their choice of a research, theory, or project-based portfolio," said Program Director Kathy Craven. "The program was built for those who enjoy exploring and communicating on a wide variety of online media sites with a desire to strengthen their exploration and understanding of strategies that make media messages effective."
About Full Sail University:
Full Sail University is an award-winning educational leader for those pursuing careers in the entertainment and media industry. Founded in 1979, Full Sail has been recognized as one of the Top Five Game Degree Programs by Electronic Gaming Monthly, one of the Best Music Programs by Rolling Stone Magazine, and one of the Best Film Programs by UNleashed Magazine. In 2011, Full Sail received the "21st Century Best Practices in Distance Learning Award" from the United States Distance Learning Association, was named the "School/College of the Year" by the Florida Association of Postsecondary Schools and Colleges, and was recognized as one of the Top 100 Social Media Colleges by Studentadvisor.com.
Full Sail offers on-campus and online Master's, Bachelor's, and Associate's degree programs in areas related to animation, art, business, education, graphic design, film, marketing, web development, music, recording arts, sports, and video games. Full Sail graduate credits include work on OSCAR®, Emmy®, GRAMMY®, ADDY®, MTV Video Music Award, and Spike Video Game Award nominated and winning projects.
http://www.fullsail.edu
http://www.twitter.com/fullsail
http://www.facebook.com/fullsailuniversity
###