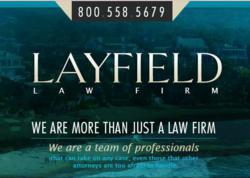 Marina del Rey, CA (PRWEB) November 26, 2012
After a seven day jury trial in Orange County Superior Court, in the case Total Access Payments, Inc. v. Maximum Business Innovations, Inc. et al. (Case No. 30-2011-00507384), the jury returned a 12-0 verdict for fraud and awarded $5.225 million against the two remaining defendants who participated in a fraudulent scheme to steal a total of $1.55 million from several victims. Attorney Philip Layfield of the Layfield Law Firm represented the plaintiff, an Australian entrepreneur and former pro rugby player who started an electronic payment processing company named Total Access Payments (TAP).
According to court documents, on December 29, 2009, TAP wired $1 million into an escrow account at Commercial Escrow Services, Inc. (CES) in Pleasant Hill, CA. Court documents stated that, unbeknownst to TAP, the escrow company failed to perform its duties competently. Rather than perform under the agreement, court documents stated the Defendants and other co-conspirators produced forged documents in order to direct escrow to wire TAP's money for their own benefit.
TAP hired The Layfield Law Firm in an attempt to recover its lost money. The Layfield Law Firm and its lead attorney Philip J. Layfield spent almost two years investigating and locating the wrongdoers. During the litigation, per court documents, it was discovered that several of the parties purchased homes, cars, lavish travel and withdrew large sums of cash to further their fraud and avoid honoring their commitments.
During the litigation, The Layfield Law Firm was instrumental in getting the escrow company, CES, shut down by the State of California. Court documents showed that it was learned that dozens of unlicensed and unscrupulous characters were utilizing CES to effectuate their Prime Bank Instrument fraud. In addition to the shutting down of CES, The Layfield Law Firm has been cooperating with the FBI in an effort to secure indictments for the participants in this scam as well as others.
The Layfield Law Firm specializes in complex business litigation and catastrophic personal injury matters in California and across the country. The main office is located in Marina Del Rey, California, with additional offices located in Santa Monica, Manhattan Beach, Palm Springs, Newport Beach, and Ventura. If you have been a victim of Prime Bank Instrument Fraud or Film Financing Fraud, please contact our office at (800) 558-5679 or http://www.layfield-law.com.