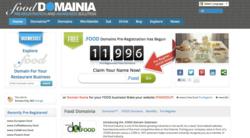 Kansas City, MO (PRWEB) November 28, 2012
Within the next year, the Internet Corporation for Assigned Names and Numbers (ICANN) will introduce hundreds of new, industry-specific Top Level Domains (TLD), such as .FOOD, to the Internet. The .FOOD domain extension will act as an alternative option to .COM or .NET, designed specifically to provide a commerce environment and information exchange network for the food industry. .FOOD will assist businesses in creating user friendly access to food related products, services and information instantaneously through accurate search engine classifications.
The food industry is one of the fastest growing industries in the world. As a result, food related websites have become some of the most competitive sites on the Internet. With this in mind, Dot Food, LLC is committed to educating its client base about the benefits of having a .FOOD domain extension while creating awareness among food related businesses worldwide, and maximizing pre-registration for the food industry professional or enthusiast. In addition, FoodDomainia is a gateway of information for the food industry. Along with a complete recipe and nutritional facts, the site compiles a complete U.S directory that includes all food related establishments, from farmers to grocery stores to restaurants.
By pre-registering for a .FOOD domain name on FoodDomainia, food retailers and service providers can secure a better, more professional domain name for their business, product, or service. Registrants will be instantly identified as relevant and valuable members of the food industry, will stand out among their competitors and appear stronger to online investors; all the while increasing their Search Engine Optimization.
Any Registrant that holds a trademark with the United States Patent and Trademark Office (USPTO), will have priority over any other Registrant to be awarded the applied-for .FOOD domain. Brand and trademark holders should pre-register early to protect their interest.
Dot Food, LLC is excited to participate in this new revolution of the Internet. Visit our website at http://www.fooddomainia.com to pre-register your .FOOD domain name, today.
###
DOMAINIA™ is a specialty domain marketplace custom tailored to capture advance registrations for new gTLD applicants. Each Domainia™ site will feature relevant and current industry information, content, guides and related news. Domainia™ will articulate information that web-surfers are looking for, provide education for consumers on the benefits of choosing a new TLD for their existing sites, promote the benefits of the new TLD program and encourage the users/visitors to Pre-Register.
Trademark protected and featuring exclusive access to millions of pages of content in relation to each TLD, Domainia™ is not only unique, it's intuitive. By developing intricate web solutions with special attention to search engine optimization and ease of use, the Domainia™ team is providing the ultimate advance marketing tool to gTLD applicants. Some of our Domainia™ sites feature more than three million pages of content which are fully indexed and highly ranked on all major search engine (i.e. Google, Yahoo!, Bing).