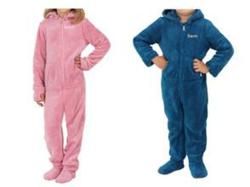 Sacramento, CA (PRWEB) November 27, 2012
The Consumer Product Safety Commission has recalled a batch of girls' pajamas produced by Elephantito, a company in Key Biscayne, Florida, that makes children's clothing. This recall is a voluntary one made in cooperation with the company, who discovered that the pajamas did not meet safety standards regarding flammability established by the federal government.
Consumers should immediately stop the use of these pajamas by children and return any purchased items to the store where they were purchased for a full refund, exchange, or store credit.
The recall concerns about 180 units of girls' pajamas manufactured in Peru. So far, no injuries have been reported, but the CPSC warns that the pajamas may pose a burn risk to children due to their lack of flame retardant quality. The pajamas are made of woven cotton and bear the style number JP 12 FL. This number is printed on the garment's tag. The pajamas recalled are printed with a small pink flower and green leaf pattern, are short-sleeved with five buttons on the shirt, and include a pair of shorts. They were sold in sizes 1 to 8 for girls and were marketed through specialty clothing shops and online from August of 2008 until September of 2011.
Attorney John Demas notes, "Issues with children's clothing and gear that may pose a risk are always frightening. The thought that a child could be injured by something as commonplace as a pair of pajamas is unsettling. The company is taking the right action in recalling the pajamas, but if any children are injured due to these products, the company will still be liable for the damages caused. When companies release products to the public, it is their legal responsibility to ensure that the products are safe. Any violations of safety can result in legal liability for the company for the damages that are caused."
About Demas Law Group, P.C.: John Demas is a personal injury attorney in Sacramento, California, who represents victims of all types of accidents. Demas Law Group, P.C., represents clients who have suffered injury from defective products, car accidents, other types of vehicle accidents, and slip-and-fall injuries as well as dog bites and nursing home abuse cases. Contact John Demas at Demas Law Group, P.C., if you have been a victim of any type of accident caused by someone else's negligence or carelessness to see if you qualify to recover damages.
Attributes:
http://www.washingtonpost.com/business/pajamas-recalled-because-of-burn-danger/2012/11/20/ced19408-3365-11e2-92f0-496af208bf23_story.html