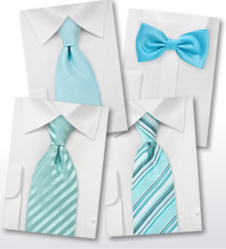 We're beyond thrilled to be working with StyleMePretty on this contest...
San Francisco, CA (PRWEB) November 27, 2012
Bows-n-Ties.com, an online retailer specializing in groomsmen ties, is announcing their feature on StyleMePretty.com, one of the largest wedding blogs in the U.S. for their annual $250 giveaway contest.
"We're beyond thrilled to be working with StyleMePretty on this contest," says Bows-n-Ties.com founder Hendrik Pohl. "This is one of the most respectable wedding blogs on the Internet, receiving over tens of thousands of visits per day. To combine our audience with theirs is an excellent fit, and is going to make one reader in particular exceptionally happy!"
Designed exclusively for StyleMePretty.com, the contest will reward one random winner with a $250 gift certificate to be used towards merchandise sold at Bows-n-Ties.com. To enter, participants simply need to "like" the Bows-n-Ties.com Facebook page. A winner will be chosen and announced on January 31st.
"At Bows-n-Ties.com, we're very proud of the collection of wedding neckties & bow ties that we've built up over the years," says Pohl. "It truly is one of the most complete collections in the world today, and the feedback we've received from satisfied customers has been nothing less than overwhelming. We've gone to great lengths to match our ties with bridesmaid dress swatches from some of the top designers in the world, and people have been very receptive. We wanted to show our customers just how much we appreciate their business, and there's no better way to do that than to offer up some complimentary merchandise to a lucky winner."
This isn't the first time that Bows-n-Ties.com has partnered with wedding blogs for contests and announcements. In the past, the site has either partnered with or been endorsed by such blogs as OnceWed.com, ElizabethAnneDesigns.com and WeddingChicks.com.
"Planning a wedding can be extremely stressful and difficult," says Pohl. "With so much to worry about, most people will take all the help they can get. This is one of the main reasons why we like to partner up with wedding blogs, as both of our audiences can gain from the work we've done to streamline our site. We hope that our penchant for matching ties with bridesmaid dress color swatches will make it easier for people to plan their weddings, and that our customers are satisfied with the results."