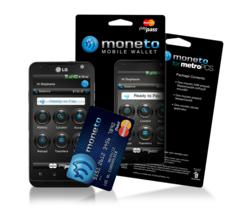 The moneto prepaid MasterCard is redefining the prepaid market by providing a bank account alternative with a comprehensive mobile banking solution that combines cutting edge technology with value-added services
Richardson, TX (PRWEB) November 27, 2012
DeviceFidelity announced today that it will be offering the moneto prepaid MasterCard®, a feature-rich prepaid financial solution, at MetroPCS retail locations in the San Francisco Bay Area beginning today.
MetroPCS customers using the moneto prepaid MasterCard will be able to use the moneto Android™ application to manage their accounts, view transaction history, view real time balance information, make mobile payments, and transfer money to other moneto users, as well as take advantage of a cash rewards program. The application is available for download on Google Play.
The moneto online banking suite includes features such as free direct deposit, online bill pay, as well as customizable text and email alerts.
The moneto mobile wallet pack includes a moneto MasterCard and an NFC enabled microSD card developed by DeviceFidelity that features MasterCard PayPass™ technology. By inserting the NFC-enabled microSD in their phone, consumer can now use their phone to pay for everyday in-store items wherever debit MasterCard PayPass is accepted.
"The moneto prepaid MasterCard is redefining the prepaid market by providing a bank account alternative with a comprehensive mobile banking solution that combines cutting edge technology with value-added services," said Youri Bebic, General Manager of Prepaid Services at DeviceFidelity. "We're looking forward to providing consumers with an innovative and easy to use prepaid financial product they can conveniently pick up and reload at their local MetroPCS store and use nationwide"
The moneto prepaid MasterCard is accepted worldwide wherever debit MasterCard is accepted and can also be used to withdraw funds 24/7 at ATM's worldwide. With no monthly fees*, real-time balance updates, free person-to-person money transfers, a hassle-free cash back rewards program and a comprehensive mobile application, the moneto prepaid MasterCard is the ultimate solution for prepaid financial services.
MetroPCS consumers who are interested in the moneto mobile wallet can find more information about eligible Android smartphones or can order online by visiting http://www.moneto.com/metroPCS.
*First 3 months FREE – Starting month 4, if during any month $300.00 or more is spent on purchases on your moneto Account, the $2.95 Monthly Maintenance Fee will be waived and reversed.
About moneto:
moneto is a convenient and feature-rich prepaid MasterCard and mobile wallet application that not only provides enables your favorite phones to make mobile payments Near Field Communications,. With moneto you can pay for purchases wherever Debit MasterCard is accepted and at over 120,000 MasterCard PayPass enabled merchant locations nationwide. moneto is based on In2Pay® technology developed by moneto parent, DeviceFidelity, Inc. For more information on moneto in the US visit moneto.com, follow us on Twitter @moneto_me or at facebook.com/monetome
About DeviceFidelity
DeviceFidelity, Inc. develops plug-and-play technologies that empower a variety of institutions to deploy their services and applications on millions of mobile phones worldwide. Its patented In2Pay® microSD and In2Pay iCaisse solution transform popular mobile phones into an interactive contactless transaction device. Committed to bringing contactless innovation to the mobile phone, the company launched moneto, the world's first multi-platform mobile wallet in the US. DeviceFidelity is a private corporation with headquarters in Richardson (Texas) and offices in San Mateo (California), London (United Kingdom) and Aix-En-Provence (France). For more information visit devicefidelity.com, follow us on Twitter @devicefidelity and at facebook.com/DeviceFidelity.