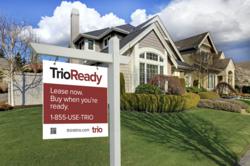 Trio Own Option leasing is the missing link between renting and homeownership.
Yuba City, CA (PRWEB) November 28, 2012
Following on the heels of its bond offering in Madera County, the California Affordable Housing Agency (CalAHA) is partnering once again with Cascadia Equity Leasing, to offer 50 homes with a lease and purchase option in Sutter, Nevada and Colusa counties. The homes will be acquired for the program through an agency sponsored municipal bond issuance.
"The response to the Madera Own Option leasing program has been outstanding," said Ed Mayer, President and Chair of the CalAHA. "In three weeks since we announced the program, we've received three times the number of applications than available homes. That tells us two things: people love the idea and we need to consider expanding the program."
The $8,610,000 Taxable Municipal Housing Revenue Bonds are being offered to investors under the issuing authority of the California Affordable Housing Agency. The bonds are Community Reinvestment Act credit eligible, have a 7-year term with an anticipated 4-5 year average life, are non-rated, and do not require subsidies from federal or state agencies.
Cascadia and the Regional Housing Authority of Sutter and Nevada Counties (RHA), in cooperation with CalAHA, will locate the properties in Colusa, Sutter and Nevada counties and purchase the homes with the proceeds of the bond issue. The program is working with several major financial institutions, including Wells Fargo to provide inventory from their REO portfolios. The CalAHA program is in line with their objectives of helping stabilize communities and making housing accessible to workforce families.
Cascadia will market the program to area homeowners largely through thinktrio.com/california-preapply, and underwrite their ability to qualify. Since the home acquisition criteria include affordability and there is no up-front purchase down payment, the program broadly targets workforce families.
With future homeowners in place, Cascadia and RHA will jointly manage the lease and property until it is purchased by the lessee or re-leased.
"The ability of many families in our area to get into a home has been severely constrained by the economy and by more stringent mortgage qualification standards," said Linda Nichols, Executive Director of the Regional Housing Authority of Sutter and Nevada Counties. "We believe this program gives more people a better chance at achieving homeownership. And that's at the core of our mission."
California Affordable Housing Agency is comprised of 16 member agencies. The purpose of the Agency is to preserve and increase affordable and workforce housing through acquisition, development, rehabilitation, and financing activities.
Cascadia Equity Leasing, LLC, a private financial services company, is active in creating and implementing complete investment and lease-servicing programs for the residential real estate industry. The Trio Own Option residential leasing program is based upon the market-proven automobile leasing model, and is designed to help facilitate the transition to homeownership.
For more information about the bond issuance, please contact Patrick Howard, Managing Director of Capital Markets for Cascadia at 206-257-3035, or Patrick.howard(at)cascadialeasing(dot)com