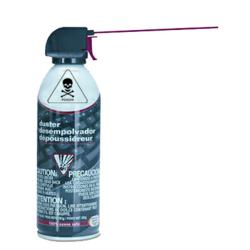 "The products are made of a gas that is compressed into a liquid and canned. The types of gases used vary, and some are dangerous when used improperly."-National Safety Countil
Scottsdale AZ (PRWEB) November 29, 2012
If you use so-called canned air dusters at home or work, there's a good chance you think they actually use air.
They don't. Instead they use a documented mix of dangerous, explosive and addictive gasses.
In a recent interview, John Scherer, CEO of the revolutionary new 02 Hurricane Canless Air System says you should read the warning label on the can. "There's a good reason it's called a warning label," says Scherer. "The label lists dangerous gasses, potential for frostbite if sprayed on the skin, the danger of explosion and potential for inhalant abuse, aka Huffing. The list goes on and on and on."
What sets the 02 Hurricane apart is the unit cleans just as well as canned air dusters, but uses the air we breathe to do it. The 02 Hurricane draws in the air and blasts it out at hurricane-force. It's totally safe anywhere in the workplace or home.
Scherer says there's another benefit. "It's rechargeable like your cell phone. You use it over and over. You save money plus you avoid the cost of disposing of canned air, which is classified by the EPA as hazardous waste. Green-Green, Win-Win. There's no warning label on our product because it doesn't need one."
Since its debut, the 02 Hurricane has been getting rave reviews. "People are discovering a better way to dust and clean in the office and workplace," says Scherer. "It's safe for everyone. It's clean and it's green. The 02 Hurricane is simply a better way."
The 02 Hurricane is assembled in the USA at the company's plant in Tucson, AZ.
To learn more about the 02 Hurricane visit:
http://www.canlessair.com
Media Contact:
Brian Olson
Conversation Starters Public Relations
brian.olson(at)starttheconversations(dot)com
303-726-4044